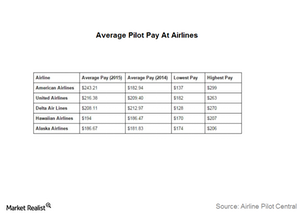 Why Is Delta's Pilot Deal Important for the Airline Industry?
By Ally Schmidt

Oct. 7 2016, Updated 11:04 a.m. ET
All pilots are watching Delta
All airline pilots have their eyes on Delta Air Lines' (DAL) final agreement with its pilots. This is because Delta's deal will set a precedent in the industry. Most pilots are looking to get their own deals renegotiated according to the deal with Delta pilots. This could be anything from asking for higher pay to rules that could make a pilot's job easier.
You can take exposure to DAL by investing in the PowerShares Buyback Achievers ETF (PKW), which invests 1.6% of its portfolio in DAL.
Article continues below advertisement
Southwest's deal with its pilots is in jeopardy
After four years of negotiations, Southwest Airlines (LUV) recently reached a tentative agreement with its pilots. According to the deal, the pilots will get a 15% raise this year followed by a 3% raise per year for the next three years. This means a compounded 29.4% raise over the next four years compared to the 30.2% raise that Delta pilots are getting.
Southwest pilots initially asked for an 18% raise this year followed by a 4% raise per year for the next four years. Jon Weaks, president of the Southwest Airlines Pilots' Association, has already asked for a meeting with Southwest Airlines CEO (chief executive officer) Gary Kelly.
In November 2015, Southwest pilots rejected a deal, and the union led all labor parties to a no-confidence vote against Southwest Airlines' CEO.
The pilots also sued Southwest over the use of the new Boeing 737 MAX to be delivered next year. The tentative agreement allowed Southwest to use these new planes. If the deal doesn't go through, the issue will be reopened.
United is also in trouble
United Continental (UAL) also reached an agreement with its pilots in January 2016. According to the contract, its pilots would get a 13% raise this year followed by a 3% raise in 2017 and a 2% raise in 2018.
However, United Continental also has a contract provision that allows its pilots to renegotiate the deal according to the deal that Delta's pilots secure from Delta Air Lines.
American Airlines (AAL) is trying its own approach to cope with this industry problem. Let's look at this in more detail in the next part.