Why Is Delta Air Lines's Revenue Expected to Fall in 2016?
Analysts are estimating an ~4.5% decline in Delta Air Lines's (DAL) revenue to $10.6 billion for 3Q16.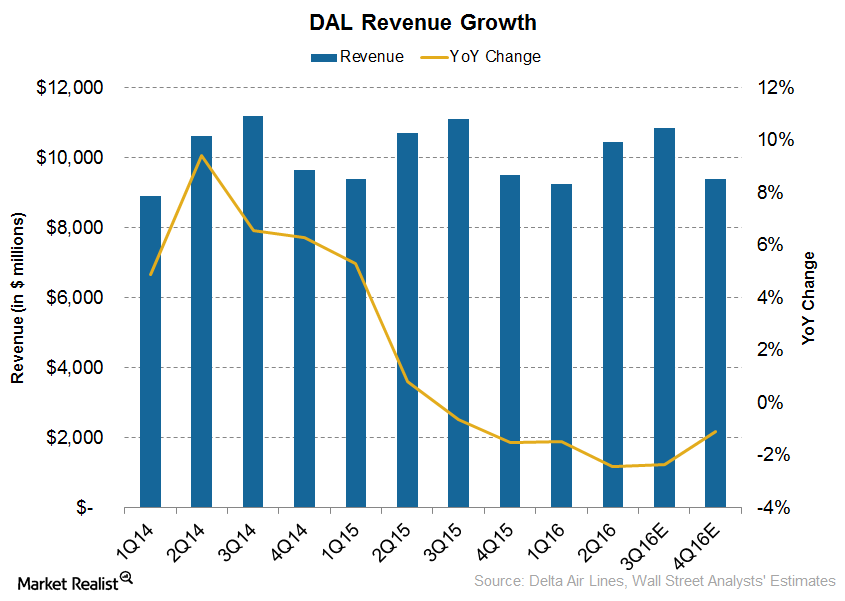 Analyst estimates
As we discussed in the previous article, analyst estimates can serve as an effective proxy for what's being priced into the stock. Analysts are estimating an ~4.5% decline in Delta Air Lines's (DAL) revenue to $10.6 billion for 3Q16. Analysts estimate that Delta Air Lines's fiscal 2016 revenue could decrease ~2.5%, compared with an earlier estimate of a 0.5% decrease in revenue.
The Dynamic Leisure & Entertainment ETF (PEJ) invests ~5.8% of its portfolio in United Continental (UAL), ~5.6% in Delta Air Lines (DAL), ~5.6% in Southwest Airlines (LUV), ~5.3% in American Airlines (AAL), and ~3.1% in JetBlue Airways (JBLU).
Article continues below advertisement
Article continues below advertisement
Lower fares led to unit revenue weakness
Unit revenue is the revenue earned by an airline for flying one passenger for one mile. Unit revenue is also known as passenger revenue per available seat mile (or PRASM).
Airfares constitute a major part of unit revenues. Increased competition has kept airfares low, which has resulted in declining unit revenues for most players in the industry.
Delta Air Lines's (DAL) PRASM fell 4.9% for 2Q16, and the airline had expected its 3Q16 PRASM to fall 4%–6%. However, August's catastrophic computer outage in Delta's Atlanta operation center led to a revision of this guidance. Delta Air Lines now expects its PRASM to fall 7%. For more information, please read Market Getting a Clearer View of Impact of Delta's August Outage.
Delta Air Lines's international PRASM figures have been declining. In 2Q16, DAL's Pacific PRASM fell 5.1%, its PRASM for Latin America fell 4.9%, and its PRASM for the Atlantic region fell 4.4%.
A major reason for this decline is the strengthening US dollar. Because DAL earns significant revenues from international markets, an appreciating dollar should lower the value of these international revenues. Falling fuel surcharges have also slightly impacted unit revenues.
Another reason for unit revenue weakness is declining utilization. After steady improvement in 2015, DAL's utilization fell during most of 2016. To combat this decline, Delta Air Lines has been cutting capacity, which we'll discuss in our next article.