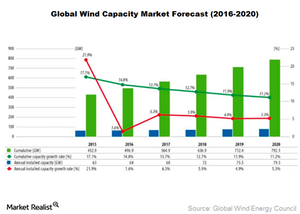 What's the Rationale behind GE's Proposed Acquisition?
Global wind capacity
In this article, we'll go through the rationale behind General Electric's (GE) planned acquisition of LM Wind Power. According to the GWEC (Global Wind Energy Council), worldwide wind capacity is expected to nearly double in the next five years.
In 2015, it was 432.9 GW (gigawatts), and it's poised to reach to 792.1 GW by 2020, according to GWEC's research. After record installations in 2014, the wind power industry continued its stride in 2015 as well. In 2015 alone, industry players (FAN) installed 63 GW globally, a record so far.
China surprised the world when it reported 30.8 GW of wind power installations amid a slowing economy and dull demand in 2015. The country broke its own 2014 record of single-year installations. Apart from China, Canada, Brazil, and Mexico are also developing markets in the wind energy space.
Article continues below advertisement
General Electric's rationale for LM Wind Power
According to General Electric, roughly 50% of all new electricity capacity additions were renewable energy sources (SPWR) in 2015. Wind energy alone accounted for 35% of that growth.
There's growing competition worldwide for onshore and offshore wind power. As the industry expands, costs will fall. This will likely require a strong push for further innovation in blade design and other aspects.
GE wants to tap the worldwide market share in this space as falling costs place renewable energy (FSLR) in better competition with fossil fuels. Note that GE is also one of the world's most prominent manufacturers of onshore wind turbines. In addition, the company is wanting for offshore operations.
What the Renewable Energy division's CEO said
Jérôme Pécresse, president and CEO of GE Renewable Energy, said, "We, along with LM Wind Power, have a deep pipeline of technical innovations that can further reduce the cost of electricity. The acquisition of LM Wind Power, a leading supplier to the wind industry, will help us deliver on that goal."
The company expects to gain more knowledge of turbine design and supply with its acquisition of LM Wind. Following its acquisition, GE foresees further innovations lowering costs and improvements in turbine performance (ABB).
Investors who want to indirectly hold GE can opt for the iShares Global Industrials ETF (EXI). GE makes up 7.2% of the portfolio holdings of EXI.