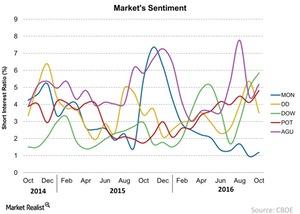 What's the Recent Market Sentiment for MON, POT, AGU, and Others?
Market sentiment
One way to know the market sentiment for a company is to look at its short interest ratio. This ratio tells us whether more market participants are anticipating the company's stock to fall or rise in the near future.
Short interest, expressed in percentage, is calculated by taking the total number of shares sold short over the total outstanding shares. A higher number indicates a higher short position, which can be interpreted as more investors taking a short position in view of the stock falling in the near future.
Article continues below advertisement
Short interest
In the above graph, we've plotted companies that have announced a merger in the past and are pending completion. As of October 14, 2016, Monsanto is trading at a short interest ratio of 1.2%, which is slightly higher than 0.90% in September. While this is a slight upward movement, the short interest ratio has fallen significantly over the past year.
The company's recent short interest ratio was lower compared to the previous month, which means the market (NANR) doesn't believe the stock will fall much in the near term.
How the peers are doing
In contrast, PotashCorp's (POT) short interest ratio has risen steadily since January 2016 on the back of weak potash prices. The current short interest stands at 5.0% compared to 2.0% in the beginning of this year. Agrium (AGU), which will merge with PotashCorp (POT), has a short interest ratio of 4.8% as of October, which is higher than 4.1% in September when the deal was announced.
Dow Chemical (DOW) and E I du Pont de Nemours (DD) also have high short interest ratios of 5.9% and 3.5%, respectively, in October. The market appears relatively bearish on these companies compared to Monsanto. Read our series Crop Prices Rise: Positives for Seed and Fertilizer Companies to know what impacts these companies.
To find out more about investing in the agricultural sector, be sure to visit our Agricultural Fertilizers page.