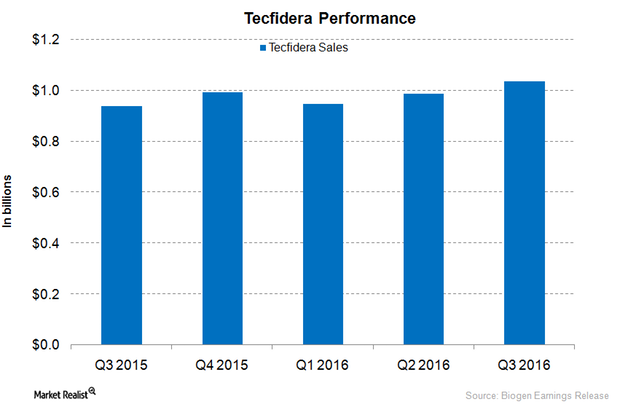 Tecfidera Continued to Lead in the Oral Multiple Sclerosis Market
Tecfidera market share
In 3Q16, Biogen's (BIIB) oral multiple sclerosis (or MS) drug, Tecfidera, managed to increase its global market share to ~15%, a year-over-year (or YoY) rise of about 1 point. The drug also accounts for a 20% share of the overall MS market and a 51% share of the oral MS market in the United States.
About half of all US patients who started on oral MS therapy in 3Q16 opted for Tecfidera, enabling Biogen to pose strong competition to other MS players such as Teva Pharmaceutical (TEVA), Novartis (NVS), and GlaxoSmithKline (GSK).
Article continues below advertisement
Article continues below advertisement
Tecfidera has managed to report strong growth trends despite the overall MS segment in the United States witnessing a YoY fall of about 2% in commercial patients. If Biogen continues to witness such strong demand for Tecfidera and other MS drugs in the United States, it could further boost Biogen's share price as well as the price of the iShares Nasdaq Biotechnology ETF (IBB). Biogen makes up about 7.8% of IBB's total portfolio holdings.
In 3Q16, Tecfidera earned about $1.0 billion in global revenue, a YoY rise of ~10.3%. The drug's sales in US markets reached $845 million, a YoY rise of 12%. This included a positive revenue impact of ~$40 million–$50 million compared to 2Q16 due to inventory buildup in its distribution channels.
International market performance
In 3Q16, Tecfidera earned ~$189 million in revenue in international markets, a YoY rise of ~3%. The growth was partially offset by a negative impact of ~$17 million due to unfavorable foreign currency fluctuations and hedging strategies. Compared to 2Q16, Tecfidera's sales in international markets have suffered by ~$17 million due to unfavorable parallel trade.
In 3Q16, the European MS market witnessed a YoY rise of ~7% in patients. Tecfidera is currently being used by around 65,000 people in Europe, a YoY rise of ~30% and a sequential rise of ~4%. The drug is witnessing strong demand in recently launched markets.
Tecfidera has also managed to gain market share in France. The drug witnessed stagnant demand in the country for the past two quarters, but it's now become the most prescribed MS therapy. The drug is also the most prescribed therapy in multiple mature markets in Europe, including Germany, the United Kingdom, and Italy.
In the next article, we'll explore growth trends for Biogen's MS drug Tysabri in 3Q16.