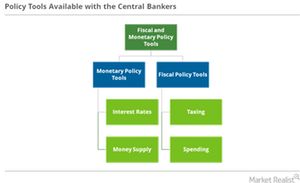 Dalio: What Policies Are Required of Central Bankers?
Ray Dalio: Here's what's required of central bankers
Given the inadequacy of monetary policy measures to stimulate the economy, we may see "more direct placements of purchasing power in the hands of spenders," believes Ray Dalio. He has outlined what central bankers should do.
Article continues below advertisement
"Continue to make debt assets extremely unattractive for savers"
For some time now, most developed market (EFA) (VEA) central bankers have been monetizing debt in an attempt to make it less attractive to investors. Monetizing debt is a process by which a government issues debt (TLT) and a central bank purchases the debt, lowering bond yields in the process. Yields had been lowered with the objective of putting more money into the hands of the people, thereby curtailing investment into bonds and promoting more spending in the economy. However, as spending seems to be stuck in low gear, we may see continued efforts by central bankers in this regard.
"Monetary Policy 3"
Ray Dalio has stated that this may be the time for some policy shifting by central bankers. With "Monetary Policy 1" (interest rates) and "Monetary Policy 2" (quantitative easing) not being as effective anymore, Dali suggests that there may be a need for a "Monetary Policy 3" ("money printing"). Monetary Policy 3 could be the way to put money directly into the hands of spenders.
Dalio, along with other notable investors such as Bill Gross and Jeffrey Gundlach, has been proposing fiscal policy measures such as "helicopter money" for some time now. Helicopter money is one way of putting money directly into the hands of spenders. With the lowering of interest rates and quantitative easing failing to push economic growth to the levels desired by policymakers, we may soon see alternative fiscal policy tools take center stage.
You may be interested in the following:
Why Helicopter Money Makes Economic Sense to Ray Dalio
Gundlach Sees a Solution on the Fiscal Side, Advocates Helicopter Money
Is Fiscal Spending the Solution to Economic Stagnation?