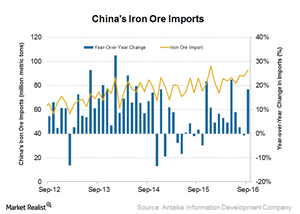 What Led Robust Chinese Iron Ore Imports despite Contrary Views
China's iron ore imports
Contrary to what was suggested by many market participants, the iron ore imports by China rose in September 2016 instead of declining. Imports reached 93 million tons, which is the second-highest level for the month of September. This level also represents a rise of 8% YoY (year-over-year) and 6% month-over-month.
In the first nine months of 2016, iron ore imports reached 763 million tons, which was 9.2% higher than during the same period in 2015. The recent price rally in Chinese steel prices is the main reason for buoyant iron ore imports.
Article continues below advertisement
Customs data and China's iron ore imports
China tracks its iron ore imports through customs data. This factor is important for investors because such information provides a good sense of the appetite for imported iron ore among Chinese mills and traders. China consumes about two-thirds of all seaborne iron ore, and so China's import appetite impacts iron ore players involved in seaborne iron ore trade, including Cliffs Natural Resources (CLF), Vale SA (VALE), and Rio Tinto (RIO).
The iShares MSCI Global Metals & Mining Producers ETF (PICK) invests in iron ore, so this information affects it as well, and BHP Billiton (BHP) is PICK's top holding, making up 16.7% of the fund. The SPDR S&P Metals & Mining ETF (XME) also invests in some of these stocks.
Pullback in demand
Meanwhile, the supply of coking coal, another ingredient used in making steel, remains constrained, which could lead to higher steel prices. This factor could mean that the usual seasonal weakness in demand that sets in during September and October might remain tepid. It could also mean higher iron ore prices.
In the next part of this series, we'll see what's supporting the current trend in iron ore imports in China.