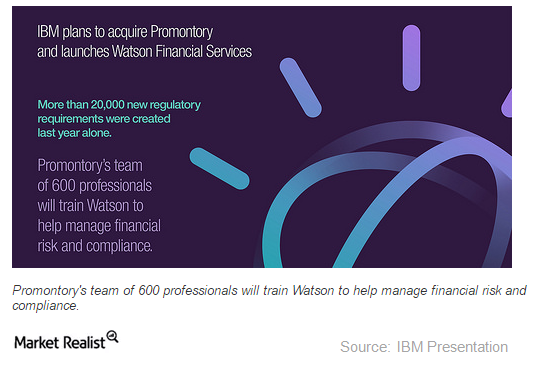 Why IBM Acquired Promontory Financial Group
IBM acquired Promontory Financial Group to boost Watson capabilities
We've taken a look at International Business Machines' (IBM) investment in IoT (Internet of Things) and how Microsoft (MSFT) is also making big strides in this space.
By making a $200 million investment in Watson IoT, IBM will not only strengthen Watson and its presence in the German market, but it will also strengthen its position in IoT and blockchain technology. In the past, we've highlighted that Watson would be the highlight of IBM's focus in 2016.
Article continues below advertisement
Recently, IBM has shown a strong interest in Europe, especially Germany, which is warranted since the company generates approximately one-third of its revenue from Europe (EFA). In early 2016, IBM announced acquisitions of Ecx.io and Aperto under its umbrella to tap the German market. It already has a presence in the United Kingdom, France (EWQ), the Netherlands, Spain (EWP), Poland, and the Czech Republic.
Carrying on its acquisition strategy, IBM recently announced the acquisition of Promontory Financial Group, a consulting company with expertise in financial regulation and compliance. Through this acquisition, IBM intends to boost the capacity and capability of its recently created Watson Financial Services, which will be part of the company's Industry Platforms unit. Financial details of the deal weren't disclosed.
Through the Promontory acquisition, IBM will target financial regulation and compliance
The Wall Street Journal, citing Bridget van Kralingen, senior vice president of IBM, stated that "the increasingly data-driven world of financial regulation is a logical expansion of its Watson cognitive computing technology, which the company also is applying in cancer research and other areas."
According to an IBM press release, Promontory's integration into Watson will give Watson a significant boost since it will be able to address "specific compliance needs, such as financial risk modeling, surveillance, anti-money laundering (AML) and Know Your Customer (KYC)." It added that "Promontory professionals will extend IBM's consulting and services offerings to help clients dramatically reduce the cost of regulatory compliance."
According to techcrunch.com, with this acquisition, IBM's offerings will be comparable to companies such as Bloomberg and Thomson Reuters that offer regulatory and compliance solutions for the financial services industry. These services track, monitor, and analyze regulatory changes.