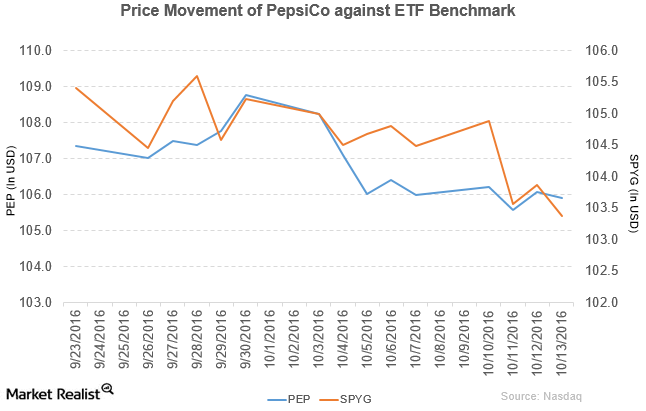 How PepsiCo Is Planning to Diversify Its Soft Drink Business
Price movement
PepsiCo (PEP) has a market cap of $152.5 billion. It fell 0.15% to close at $105.92 per share on October 13, 2016. The stock's weekly, monthly, and year-to-date (or YTD) price movements were -0.45%, 0.83%, and 8.3%, respectively, on the same day.
PEP is trading 0.78% below its 20-day moving average, 0.95% below its 50-day moving average, and 3.6% above its 200-day moving average.
Article continues below advertisement
Related ETF and peers
The SPDR S&P 500 Growth ETF (SPYG) invests 0.91% of its holdings in PepsiCo. The ETF tracks an index of primarily large-cap growth stocks. The index selects companies from the S&P 500 Index based on three growth factors. The YTD price movement of SPYG was 4.0% on October 13.
The market caps of PepsiCo's competitors are as follows:
Latest news on PepsiCo
In a press release on October 13, 2016, Reuters reported, "PepsiCo Inc ([or] PEP.N) is nearing a deal to acquire sparkling probiotic U.S. drinks company KeVita Inc, people familiar with the matter said on Thursday, in the latest push by the carbonated beverage giant to diversify its soft drinks business."
It went on to say, "The deal would be PepsiCo's first outright acquisition through its venture arm dubbed Naked Emerging Brands, whose mission is to expand the company's portfolio of sugary drinks by developing brands that appeal to health-conscious consumers."
It added, "The acquisition of KeVita could be finalized as early as this month, and will likely value the privately held company at less than $500 million, the people said. There is always a possibility that the negotiations end unsuccessfully, the people cautioned."
Article continues below advertisement
Performance of PepsiCo in fiscal 3Q16
PepsiCo reported fiscal 3Q16 net revenue of $16.0 billion, a fall of 1.8% from its net revenue of $16.3 billion in fiscal 3Q15. PepsiCo's revenue from its Frito-Lay North America and North America Beverages segments rose 3.4% and 2.9%, respectively.
The company's revenues from its Quaker Foods North America, Latin America, and Europe Sub-Saharan Africa segments fell 2.1%, 22.8%, and 1.9%, respectively, between fiscal 3Q15 and fiscal 3Q16. The company's gross profit margin and operating profit rose 0.72% and 99.2%, respectively.
Its net income and EPS (earnings per share) rose to $2.0 billion and $1.37, respectively, in fiscal 3Q16, compared to $533.0 million and $0.36, respectively, in fiscal 3Q15. It reported non-GAAP (generally accepted accounting principles) EPS of $1.40 in fiscal 3Q16, a rise of 3.7% compared to fiscal 3Q15.
PEP's cash and cash equivalents and inventories rose 12.8% and 14.7%, respectively, between fiscal 4Q15 and fiscal 3Q16. Its current ratio and debt-to-equity ratio rose to 1.32x and 4.81x, respectively, in fiscal 3Q16, compared to 1.31x and 4.79x, respectively, in fiscal 4Q15.
Projections
PepsiCo has made the following projections for fiscal 2016:
core EPS of $4.78
organic revenue growth of ~4%, excluding the impact of a 53rd week and structural changes, but including the deconsolidation of its Venezuelan operations
productivity savings of ~$1 billion
more than $10 billion in cash flow from operating activities
free cash flow of more than $7 billion, excluding certain items
net capital spending of ~$3 billion
a return of ~$7 billion to its shareholders through dividends of ~$4 billion and share repurchases of ~$3 billion
For an ongoing analysis of the consumer sector, please visit Market Realist's Consumer Discretionary page.