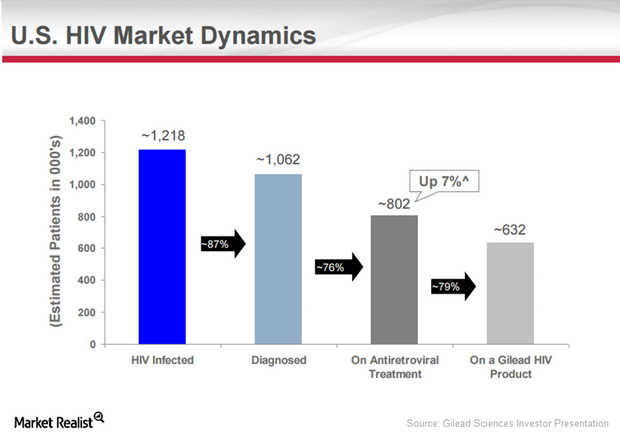 How GILD Plans to Battle through Impending HIV Patent Cliff
By Sarah Collins

Oct. 12 2016, Published 1:27 p.m. ET
Gilead's HIV business
Gilead Sciences (GILD) is the leading biotechnology player in the global HIV market. For a brief overview of the company's HIV portfolio and market position, read Gilead: Global Leader in the HIV Market. Investors can invest in the iShares S&P 500 Growth ETF (IVW) for exposure to Gilead Sciences, which accounts for ~1.1% of IVW's total holdings.
Gilead Sciences will soon face the patent expiration of some of its blockbuster HIV drugs. Patent expirations for TDF (tenofovir disoproxil fumarate) based drugs will start at the end of the year in Europe and go through 2021 in the US. TDF is the core compound in Gilead's HIV drugs. The diagram below shows the company's market dynamics in the HIV market in the United States.
Article continues below advertisement
Gilead's TAF-based products
Gilead Sciences launched its first TAF-based medicine, Genvoya, for HIV patients in November 2015 in the US. The drug was also launched in Germany and Spain in 1H16 and will be launched in three more countries in Europe by the end of 2016. TAF (tenofovir alafenamide) is a modified version of TDF, which is more potent and causes fewer side effects. Gilead Sciences said Genvoya was the second best launch after Atripla, an HIV drug launched in 2006. In 1H16, Genvoya generated approximately $500 million and is expected to register sales of around $800 million in the second half of fiscal 2016.
Gilead Sciences has launched two more TAF-based drugs, Odefsey and Descovy, in 2Q16. These drugs were launched in March 2016 and April 2016 and generated sales of around $58 million and $61 million, respectively.
Though the company's TAF-based regimen launched recently has been witnessing a strong adoption with patients switching over from TDF-based regimens including Viread and Truvada as well as non-Gilead drugs, there are still a number of HIV patients on TDF-based regimens. Moreover, ViiV Healthcare offers competitive HIV drugs Triumeq and Tivicay and is expected to pose a further competitive threat for Gilead Sciences' HIV market share given its promising two new HIV studies. ViiV Healthcare is a joint venture by Pfizer (PFE), GlaxoSmithKline (GSK), and Shionogi. AbbVie (ABBV) is another major competitor in the HIV market.