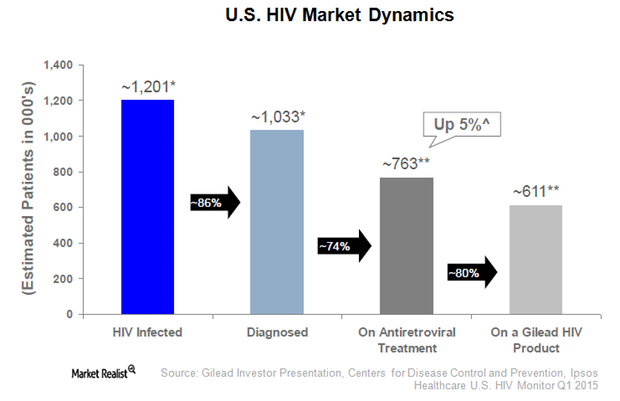 Gilead: Global Leader in the HIV Market
HIV market
Gilead Sciences (GILD), a biotechnology leader in the HIV market, provides drugs to eight out of every ten HIV treatment-naïve patients in the United States. An HIV treatment-naïve patient is someone who has never used an HIV medication. Gilead's HIV portfolio accounts for a substantial 42% of its total revenues. According to the Financial Times (2015), the global HIV market was worth $20 billion in 2013.
The above graph shows that about 611,000 of the total 1.2 million HIV patients in the United States are using Gilead's HIV products.
Article continues below advertisement
Gilead's HIV drugs
Gilead launched its first major HIV drug, Viread, in 2001. This drug forms the base for all the drugs in Gilead's HIV product portfolio.
The above graph shows that Gilead Sciences' total HIV revenues increased at an annualized rate of 13.4%, from $8.0 billion in 2012 to $10.3 billion in 2014. This growth was mainly driven by increased sales of its drugs Complera (Eviplera in Europe), Stribild, and Viread. According to EvaluatePharma, in the saturated HIV market, only four drugs are expected to register growth in sales: Gilead's Stribild and Complera, Johnson & Johnson's (JNJ) INTELENCE, and ViiV Healthcare's Tivicay. ViiV Healthcare is a partnership between GlaxoSmithKline (GSK), Pfizer (PFE), and Shinogi.
Drug overview
Stribild was introduced in the US market in 2012. With a wholesale price of $28,500 a year, Stribild is a four-drug combination therapy. Compared to the previously launched blockbuster drugs Atripla and Truvada, this drug has proven to be equivalent in efficacy and displays fewer side effects related to sleep and cognition. Stribild managed to garner more than $1 billion in revenues in its second year and is expected to earn peak sales worth $4.7 billion.
Complera, a combination therapy, involves pharmaceuticals from Johnson & Johnson and Tibotec's Edurant and Gilead's Truvada. In clinical trials, Complera has proved to be better than Atripla in reducing HIV infection. However, in patients who don't respond to Complera, the medication can make the infection drug resistant and difficult to control.
Atripla is a combination of Bristol-Myers' SUSTIVA and Gilead's Truvada. It has been the leading HIV medication since 2006.
In addition to being an effective anti-HIV drug, Truvada is also the only FDA-approved drug that can be used to prevent HIV in high-risk individuals. Viread has also registered healthy growth in revenues, as it is effective in both HIV as well as chronic hepatitis B patients.
Investors can get exposure to Gilead's strong HIV portfolio while reducing company-specific risks by investing in the iShares NASDAQ Biotechnology ETF (IBB). IBB invests 7.89% of its portfolio in Gilead Sciences.