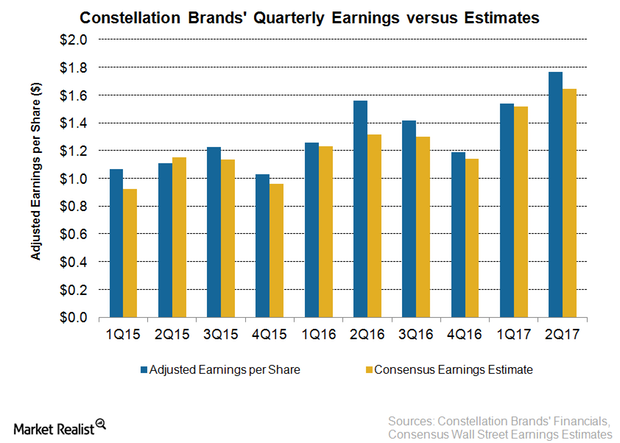 Investing in STZ for Earnings Growth Is Becoming a No-Brainer
Strong track record
Constellation Brands (STZ) impressed investors with another quarter of strong earnings and sales growth in fiscal 2Q17. The beer, wine, and spirits producer beat the analysts' earnings estimate for the eighth straight quarter.
Constellation Brands declared its fiscal 2Q17 results on October 5. The company delivered adjusted EPS (earnings per share) of $1.77 for fiscal 2Q17, which ended on August 31, 2016. The fiscal 2Q17 adjusted EPS was ahead of the consensus Wall Street analysts' EPS estimate of $1.65.
Article continues below advertisement
Article continues below advertisement
Impressive earnings growth
Constellation Brands's (STZ) adjusted EPS in fiscal 2Q17 rose 13.5% on a year-over-year basis. This strong growth in Constellation Brands's earnings was driven by higher sales and enhanced margins. We'll discuss the company's sales in Part 2 and its margins in Part 4 of this series.
Strong demand for the company's beer brands, aggressive marketing, and strategic acquisitions helped the company deliver the double-digit earnings growth in the second quarter.
Peers' performance
Leading beer maker Anheuser-Busch InBev (BUD) reported a 12.7% fall in its fiscal 2Q16 adjusted EPS due to higher net finance costs and adverse currency fluctuations. Molson Coors Brewing (TAP) disappointed investors with a 21.3% decline in its fiscal 2Q16 adjusted EPS to due to lower revenue, higher brand investments, and currency headwinds.
Constellation Brands and Molson Coors Brewing together account for 1.5% of the iShares Global Consumer Staples ETF (KXI).
EPS guidance raised
Following the strong performance in fiscal 2Q17, Constellation Brands (STZ) raised its adjusted EPS guidance for fiscal 2017 to the $6.30–$6.45 range from the previously issued guidance of $6.05–$6.35. Constellation Brands delivered adjusted EPS of $5.43 in fiscal 2016.
In the next part of this series, we'll discuss the growth drivers of the company's fiscal 2Q17 sales.