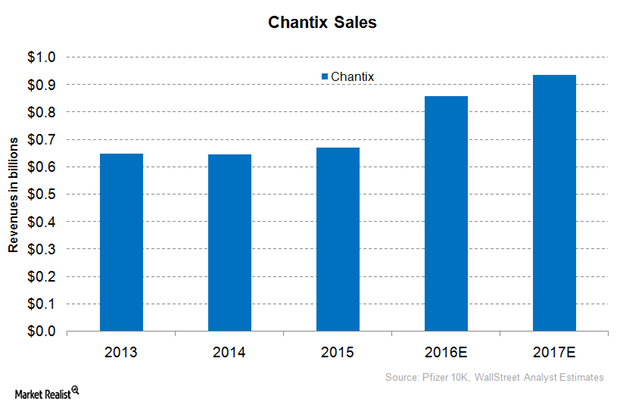 Pfizer Has a Revenue-Boosting Treatment to Help Smokers Quit
By Margaret Patrick

Oct. 25 2016, Updated 10:04 a.m. ET
Chantix growth trends
Approved by the FDA on May 11, 2006, Chantix, also known as Champix, is used as an aid to help cigarette smokers quit the habit of smoking. Despite negative foreign exchange fluctuations in 1H16, Chantix reported a year-over-year (or YoY) rise in operational revenues of ~33%.
Wall Street analysts estimate that Chantix's sales in 2016 will reach ~$0.9 billion, which would be a year-over-year (or YoY) decline of ~28%. The strong growth is mainly attributed to robust sales anticipated in the US market due to increasing demand and higher prices.
Additionally, reforms to subsidies given for the government-sponsored smoking cessation program in South Korea may also have a positive impact on Chantix's international sales in 2016. However, this growth may be partially offset by the increased use of electronic cigarettes in the UK market.
If Chantix manages to achieve these revenue targets, it may boost Pfizer's (PFE) share price as well as that of the iShares Core S&P 500 ETF (IVV). Pfizer comprises about 1.1% of IVV's total portfolio holdings.
Article continues below advertisement
EAGLES trial
On April 22, 2016, Pfizer announced the results from Evaluating Adverse Events in a Global Smoking Cessation Study (or EAGLES) clinical trial, the largest one conducted to date for studying existing smoking cessation products. This trial was conducted at the request of the FDA and the European Medicines Agency (or EMA) and involved around 8,144 adult smokers.
The trial aimed to evaluate neuropsychiatric safety of Chantix and bupropion. Compared to a placebo or nicotine patches, Chantix and bupropion did not show a significantly higher probability of neuropsychiatric events.
Additionally, it was also demonstrated that patients using Chantix were more inclined to abstain from smoking on a sustainable basis as compared to those using bupropion. Based on these conclusions, Chantix demonstrated a high efficacy and safety profile, which has proved to be a key driver of the drug's demand across the world.
Owing to the positive data in Europe, the drug's label has been updated to remove the safety warning. The FDA's Psychopharmacologic Drugs Advisory Committee and Drug Safety Risk Management Advisory Committee has also recommended removal of the safety warnings related to suicide ideation and other neuropsychiatric side effects from Chantix's label. This will encourage physicians to prescribe the drug, further boosting demand.
With Chantix, Pfizer is expected to pose strong competition to other smoking cessation players such as Perrigo (PRGO), Teva Pharmaceutical (TEVA), and Mylan (MYL).
In the next article, we'll explore the growth trends for Pfizer's Viagra.