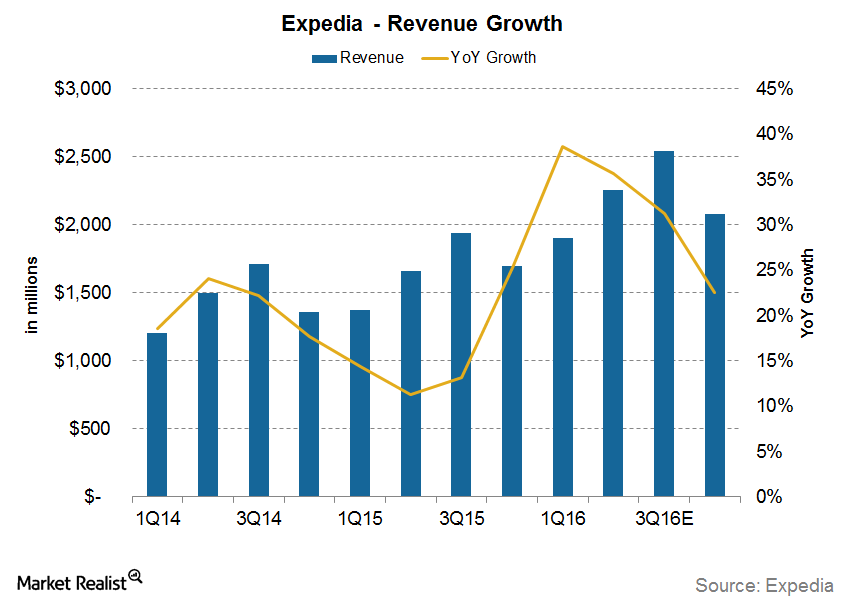 Can Expedia Continue Its Revenue Growth in 2016?
Analysts' estimates for Expedia
It's important to analyze analysts' estimates before investing in a particular stock since they act as a proxy for what's being priced in to the stock. They often also serve as an effective first screener for investors.
For 3Q16, analysts are estimating Expedia's (EXPE) revenue to rise 31.3%. That's slightly lower than the growth in the first and second quarters.
Analysts expect revenue to rise for the rest of 2016. Sales are expected to rise 35.0% and 24.0% for 3Q16 and 4Q16, respectively. Those figures lead to a 33.0% rise in revenue for 2016, which is higher than 2015. Revenue growth is expected to fall to 14.0% for 2017.
Article continues below advertisement
Article continues below advertisement
Traveling with the travelers
Worldwide, people are traveling more than they used to, and the trend is expected to rise. There will likely be higher growth in Europe and Asia, which should benefit Expedia's rival Priceline (PCLN). Travel spending in the United States is stable and much higher, which will be a key positive for Expedia.
Terror attacks and strong dollar have less impact on Expedia
Expedia has a 75.0% market share of the domestic US online travel market and a 10.0% global market share. Priceline, on the other hand, earns its maximum revenue from international markets such as Europe and Asia. For more on this, please read our complete overview of Expedia.
As a result, increased terror attacks around the world, especially in Europe, should have less of an impact on Expedia. Similarly, a strong dollar will impact Priceline more than Expedia.
Hotel consolidation isn't good for Expedia
The hotel industry is in a consolidation phase with many small and large acquisitions. The recent Marriott-Starwood merger (HOT) is a perfect example. Hotels and OTAs (online travel agencies) have been in a long war. Big hotel chains such as Marriott International (MAR), Hyatt Hotels (H), Hilton Worldwide Holdings (HLT), and InterContinental Hotels Group (IHG) have been complaining about high commissions charged by OTAs and are thus trying to attract customers to direct bookings. OTAs have responded by lowering these hotels in their searches.
Hotel consolidation doesn't bode well for these OTAs since it increases hotels' bargaining power. The recent technology partnership between Expedia and Marriott may be a new turning point.
EXPE makes up 1.4% of the Guggenheim S&P 500 Pure Growth ETF (RPG).