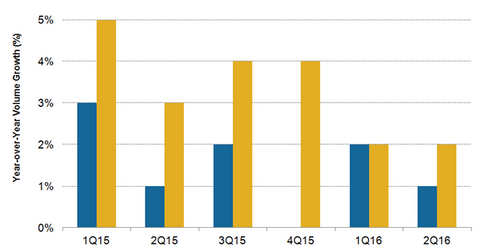 Can Dr Pepper Snapple's Volumes Generate Strong Growth in 3Q16?
By Sirisha Bhogaraju

Updated
Weak soda volumes
Dr Pepper Snapple (DPS) is the third-largest soda maker in the United States. The company's beverage volumes have been under pressure due to a weakness in soda volumes. Consumers are increasingly reducing their consumption of soda beverages and opting for healthier options such as ready-to-drink tea and bottled water.
Article continues below advertisement
Volumes in the previous quarter
In 2Q16, Dr Pepper Snapple's overall beverage volumes rise 1.0% on a year-over-year basis. This increase was driven by a 1.0% rise in carbonated soft drink (or CSD) volumes and a 2.0% rise in noncarbonated soft drink volumes.
Other nonalcoholic beverage peers are also experiencing better performances for their noncarbonated beverage brands compared to soda beverages. In 2Q16, Coca-Cola's (KO) soda volumes fell 1.0%, while still beverage volumes rose 2.0%. PepsiCo's (PEP) noncarbonated beverage volumes rose 7.0% in 3Q16. This was in contrast to PepsiCo's soda volumes, which fell 3.0% in 3Q16.
In the CSD category, Dr Pepper Snapple's soda brands that performed well in 2Q16 included Squirt, Schweppes, Peñafiel, and Crush. However, the performance of the CSD category was unfavorably impacted by lower volumes of the Dr Pepper brand, mainly due to falls in the diet version. Among the Core 4 brands (Canada Dry, 7UP, A&W, and Sunkist), only Canada Dry delivered volume growth in 2Q16.
In the noncarbonated beverage space, the volume of the company's water category rose 25.0%, driven by distribution gains for Aguafiel as well as third-party brands Bai and Fiji. The company's Clamato brand rose 14.0% due to enhanced promotional efforts in Mexico and the United States as well as distribution gains in Mexico. Nonalcoholic beverage brands that didn't perform well in 2Q16 were Hawaiian Punch and Snapple.
Volume growth expectations
In its 2Q16 conference call, DPS's CFO (chief financial officer) Martin M. Ellen said that 2016 overall sales volumes are expected to be unchanged from 2015. Soda volumes are expected to be flat in 2016, and noncarbonated beverage volumes are expected to rise slightly compared to the previous year. The company believes that noncarbonated beverage volumes are likely to be adversely impacted by increased pricing for many of its warehouse direct brands. The company continues to expect volume growth in noncarbonated beverage brands such as Snapple and Clamato and in its allied brand portfolio.
In the next part of the series, we'll look at the company's valuation.