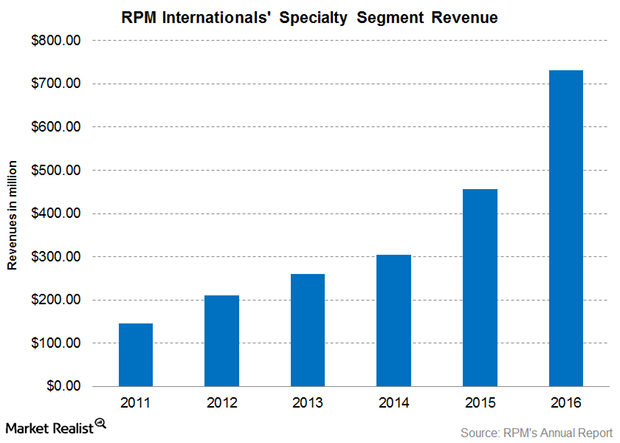 An Overview of RPM International's Specialty Segment
By Peter Neil

Oct. 3 2016, Published 4:11 p.m. ET
RPM International's Specialty segment
RPM International's Specialty segment is a new segment that came into existence in the first quarter of fiscal 2016. The segment was formed by combining the RPM2 Industrial group and the SPHC (Specialty Products Holding) group.
In fiscal 2016, the new Specialty segmented accounted for $732 million, or 15.2%, of RPM's total revenue. RPM has realigned its revenues to reflect the revenues under this segment for past years.
From 2011 to 2016, the Specialty segment of RPM has grown at a CAGR (compound annual growth rate) of ~38.3%. In fiscal 2016, RPM's Industrial segment recorded EBIT (earnings before interest and taxes) of $111 million, implying a CAGR of 20.9% since 2011.
Article continues below advertisement
Products and business model
The Specialty segment caters to industries like packaging, apparel, safety equipment, cleaning, and restoration. The segment offers products like industrial cleaners, restoration services equipment, colorants, exterior finishes, and others.
These products are sold across North America and a few places in Europe. The products are sold directly to contractors, distributors, and end-users like public institutions.
Top brands
Some of the top brands under this segment include the following:
Day-Glo, the number one manufacturer of daylight fluorescent pigments
Dryvit, the number one supplier of out solution and finish systems for commercial and residential construction
Some brands serve niche markets where the traditional peers like Sherwin-Williams (SHW), PPG Industries (PPG), and Valspar (VAL) do not have a presence.
Notably, investors can indirectly hold RPM International by investing in the iShares S&P Mid-Cap 400 Value ETF (IJJ), which had a weight of ~0.45% of its total portfolio in RPM International on September 28, 2016.
In the next part, we'll look into the geographical mix of RPM's revenue.