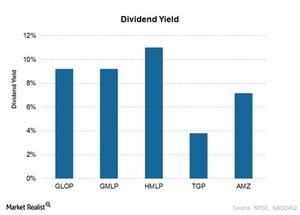 All You Need to Know about GasLog Partners' Distributions
By Sue Goodridge

Updated
Dividend yields
GasLog Partners (GLOP) is a LP (limited partnership) with its sponsor GasLog (GLOG). One of investors' main interests in LPs is high dividend yields. In this article, we'll asses GasLog Partners' cash distributions and its dividend yield compared to those of its peers.
Article continues below advertisement
Cash distribution
GLOP has declared a cash distribution of $0.48 per share, representing an annualized distribution of $1.9 per share. This quarterly distribution was the same as the last quarter. GLOP's quarterly dividends are almost 27% higher than its stated minimum dividend of $0.38 per share.
The company generated $21.4 million in distributable cash flow, 8% higher than in the second quarter. GLOP's cash distributions are further expected to rise on its recent acquisition.
Dividend coverage
GLOP's coverage ratio, which is its distributable cash flow as a percentage of its distribution, was 1.25 in 3Q16. The coverage ratio is a measure of a company's ability to pay dividends. A higher ratio is generally a healthy sign. A ratio of less than 1.0 indicates that a company's cash flow is less than its dividends paid, indicating that its current level of dividends isn't sustainable in the long run.
The company has always outperformed its coverage ratio target of 1.13. GLOP's cumulative coverage ratio since its IPO (initial public offering) is 1.23. This represents ~$30 million of cash in excess of the company's distributions.
Dividend yield
With a quarterly cash distribution of $0.48, GLOP's current dividend yield is 9.2%. The following are the dividend yields for other LNG Carrier MLPs:
The Alerian MLP Index (AMZ) is a leading gauge of energy MLPs. Investors interested in broad exposure to industrials stocks can invest in the SPDR Dow Jones Industrial Average ETF (DIA).