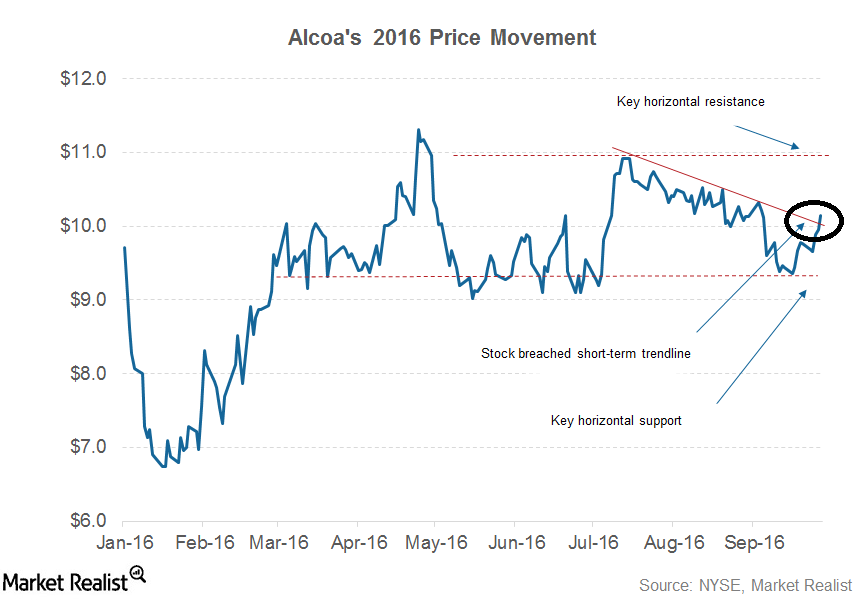 A Look at Alcoa's Technical Indicators before Its 3Q16 Release
Alcoa's technical indicators
To make market entry and exit decisions, traders and investors analyze technical indicators. Resistance and support levels are among the most commonly used technical indicators.
Article continues below advertisement
Resistance level
Support levels typically act as a floor for stock prices. As a stock approaches its support levels, more buyers emerge while selling pressure generally subsides. However, if the stock fails to hold its support levels, bears take charge and push the stock even lower. If a stock breaches its support level, the price level generally becomes a near-term resistance for the stock. A resistance level is the opposite of a support level. It's a price level at which a stock faces selling pressure.
Alcoa (AA) has breached its downward sloping short-term trend line, as shown in the graph above. The stock could now be headed towards its next horizontal resistance. Markets could become more bullish (SSO) if Alcoa breaches the horizontal resistance on a positive earnings report.
Relative strength index
Traders also look at the RSI (relative strength index) to gauge whether a stock is overbought or oversold. Generally, an RSI below 30 signifies an oversold position, while an RSI above 70 is associated with an overbought position. Based on closing prices on September 30, Alcoa and Norsk Hydro (NHYDY) have a 14-day RSI of 58. Century Aluminum (CENX) has a 14-day RSI of 60 while Rio Tinto's (RIO) 14-day RSI stands at 62.
We'll do Alcoa's post-earnings analysis after the earnings are released on October 10. Don't forget to check with our Aluminum page for a detailed analysis. To learn more about the upcoming split, you can also read Alcoa's Split: Do the Benefits Outweigh Short-Term Challenges?