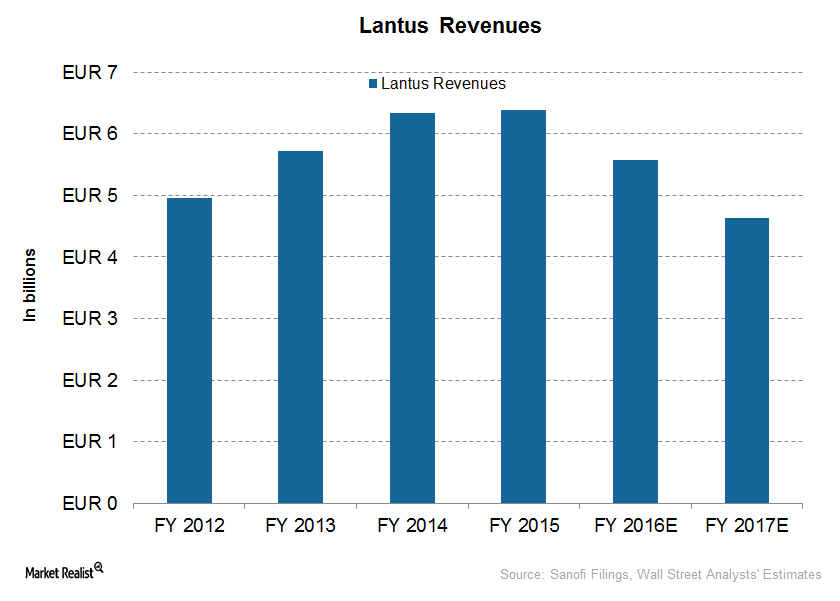 Will Sanofi See More Growth from Its Blockbuster Insulin Drug?
By Jillian Dabney

Sep. 15 2016, Updated 8:04 a.m. ET
Lantus
Sanofi's (SNY) diabetes franchise includes major drugs like Lantus, Toujeo, Amaryl, and Apidra. Lantus, a glargine insulin, contributed 17% of Sanofi's total revenues in fiscal 2015 and had an 80% share in its diabetes franchise sales during the first half of 2016. (For details on the competition for the drug, please read "How Can Sanofi Maintain Its Leadership in the Diabetes Field?")
Meanwhile, Lantus's revenues have been declining due to biosimilar competition from Eli Lilly's (LLY) Basalgar in Europe and Japan. Similarly, new launches such as Novo Nordisk's (NVO) Tresiba and Xultophy in the diabetes space put pressure on the most prescribed drug. Lantus directly competes with Novo's Levemir.
Article continues below advertisement
During the first six months of 2016, Lantus earned ~2.9 billion euros, or about $3.2 billion, which translates to an 11.1% decline during the period. The reduction in the average selling price and the loss of market share following cannibalization with Toujeo caused a 16.7% decline in the drug's sales in the US. Wall Street analysts expect Lantus to fetch ~5.6 billion euros, or about $6.3 billion, in 2016 and 4.6 billion euros, or about $5.2 billion, in 2017.
To offset falling Lantus, Sanofi came up with long-acting basal insulin, Toujeo.
Will Toujeo be the next driver for diabetes franchise?
As of July 2016, Toujeo had a market share of 6.1% in terms of the number of prescriptions. Toujeo is a new-generation basal insulin that earned 244 million euros, or about $274.4 million, during the first half of 2016. The drug generated 184 million euros, or about $206.9 million, from US sales, while the contribution from Europe stood at 46 million euros, or about $51.7 million, in 1H16. By the end of 2016, Sanofi anticipates that the availability of the product will span more than 40 countries. Notably, the drug competes with Novo's Tresiba and GlaxoSmithKline's (GSK) Tanzeum.
Wall Street analysts expect Toujeo to fetch 550 million euros, or about $618.4 million, in 2016 and 856 million euros, or about $962.5 million, in 2017.
To avoid the ups and downs of stock prices, investors can always opt for ETFs like the PowerShares International Dividend Achievers Portfolio (PID), which has 1.35% of its total holdings in Sanofi.
Continue to the next part for a closer analysis of Sanofi's Specialty Care segment.