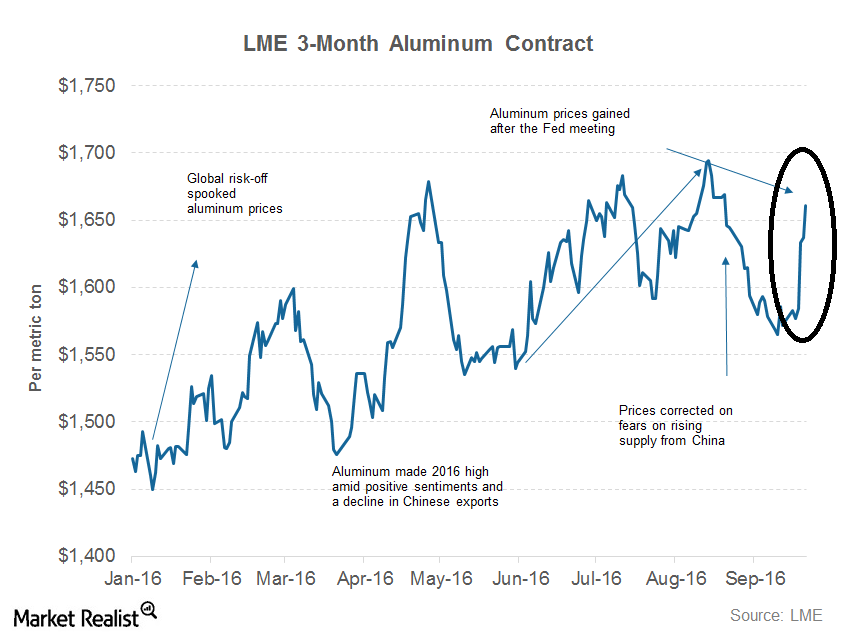 What's Driving Aluminum Prices in 2016?
Aluminum prices
The London Metal Exchange three-month aluminum contract closed at $1,661 per metric ton on September 26. Aluminum has gained 10.2% so far in 2016 including a 2.9% increase in September. Aluminum prices have shown resilience this year. However, aluminum has been facing stiff resistance at $1,700 per metric ton.
Alcoa's (AA) earnings are sensitive to commodity prices (DBC). Similarly, other aluminum producers like Rio Tinto (RIO), Century Aluminum (CENX), and South32 (SOUHY) also have varying sensitivities to aluminum prices.
Article continues below advertisement
Key drivers
At the beginning of the year, aluminum's sentiment was negative. Global aluminum markets were under the overhang of a decade of surplus. Some analysts were projecting a record surplus for 2016. A surplus occurs when production exceeds demand. While the world, with the exception of China, has been in a deficit for a while, higher Chinese production and the resulting exports pushed the market into a surplus.
Chinese exports
Chinese aluminum exports have actually fallen this year. The country's aluminum exports have fallen 4% year-over-year in the first eight months of 2016. However, Chinese aluminum exports have risen on a month-over-month basis for two consecutive months. There are concerns that some of the idled capacity in China is coming back online. Any increase in China's aluminum production has the potential to dent market sentiments.
Meanwhile, the Fed's decision to hold the benchmark rates steady was received well by markets. Most metals, including aluminum, reacted positively to the Fed's announcement. We saw a sharp rally in aluminum prices, as you can see in the above graph.
In the next part, we'll see how much aluminum China produced in August. Then, we'll explore the country's aluminum demand indicators.