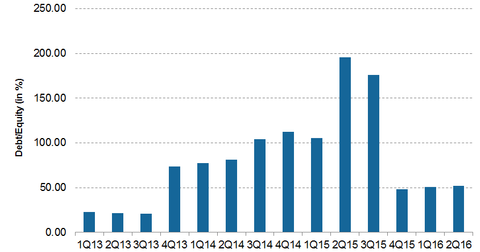 What Ctrip.com's Increasing Leverage Means for Investors
By Ally Schmidt

Updated
Increasing debt
As discussed in the previous articles, Ctrip.com (CTRP) has tried to consolidate the Chinese online travel industry by acquiring majority stakes in rivals Qunar (QUNR) and Elong (LONG) and by making other acquisitions such as Suanya and YouScore.
Major online travel agencies Expedia (EXPE) and Priceline (PCLN) have also adopted similar strategies in the United States.
In addition to these acquisitions, CTRP has also invested heavily in business and technology to reach its current size and scale. All this has resulted in an increased debt burden for CTRP.
Total debt on CTRP's balance sheet rose from $1.9 billion in 2014 to $4.8 billion at the end of 2015, then it fell slightly to $4.7 billion at the end of 2Q16.
Article continues below advertisement
As a result, CTRP's leverage ratios should have increased too. Its total debt-to-EBIT (earnings before interest and tax) ratio was 81x, and its net debt-to-EBIT ratio was 9.4x at the end of 2015. Since it reported operating losses in 1Q16 and 2Q16, the ratio couldn't be calculated for these quarters.
However, due to equity dilution, the total debt-to-equity ratio fell to 52% at the end of 2Q16 compared to 48% at the end of 2015 and 122% at the end of 2014.
Why is increasing leverage risky?
High leverage and interest costs reduce a company's ability to cope with unfavorable conditions, thus making it a risky stock to invest in.
At the end of 2Q16, the cash on CTRP's balance sheet was $2.3 billion. Currently CTRP's debt seems to be at manageable levels. However, its debt has been rising at a higher rate than its cash flow.
Of course, its cash flow is expected to improve too, as its expenses are expected to ease off. However, if margins fall, this could mean reduced cash flow, making it difficult to make interest payments and leaving little if nothing on the table for investors.
Investors should thus pay close attention to CTRP's increasing leverage. CTRP forms 1.1% of the holdings of the Direxion NASDAQ-100 Equal Weighted Index Shares ETF (QQQE).