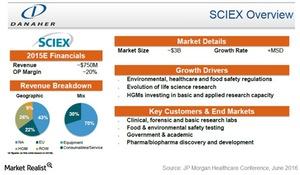 Understanding the Skeleton of Danaher's Life Sciences Business
Danaher's Life Sciences segment: History
As Danaher (DHR) is a company built on a prodigious amount of deal-making, it should come as no surprise that the Life Sciences segment came into existence with the acquisition of Leica Microsystems in 2005. Danaher further expanded this segment by acquiring AB Sciex and Molecular Devices in 2010, Beckman Coulter in 2011, and Pall in 2015. Beckman Coulter and Pall were Danaher's largest acquisitions in its history, with the company paying $5.9 billion and $13.6 billion, respectively, for their purchase. Apart from established healthcare players such as Roche (RHHBY), the company also faces competition from industrial companies such as General Electric (GE). Roughly $4 billion in the $17 billion GE Healthcare unit comes from its life sciences business. Excluding Pall, Danaher Life Sciences earned $2.4 billion in revenues in 2015.
Article continues below advertisement
Article continues below advertisement
Danaher's Life Sciences: Microscopy and mass spectrometry
Danaher's Life Sciences business provides research and clinical tools that help in testing new drugs, identifying new therapies, and understanding the cause of diseases. The company's products can be classified under three broad businesses: microscopy, mass spectrometry, and filtration. We'll be discussing the filtration, or Pall, business in the next part of this series. Let's look at Life Sciences excluding Pall in this part.
Under microscopy, Danaher provides various kinds of professional microscopes that are used in both pathological (XLV) laboratories as well as in academic settings for research. This is mainly the Leica Microsystems business.
In mass spectrometry, Danaher's offerings include instruments targeted towards academicians such as molecular biologists and bioanalytical chemists. The instruments are used to analyze electrical or chemical activity in a cell sample or to analyze the behavior of chemical and biological molecules in complex mixtures. This is mainly the Sciex business.
Customer buying behavior
Customers in the life sciences business generally look at how the technology offered by a company can fit into their workflows. The reliability of the brand and the reputation of service standards are important considerations as well. Additionally, customers generally don't buy in multiple analytical modalities at the same time. Therefore, the breadth and range of the products offered become almost as important as the scale. A pleasant experience with one medical device (IHI) may prompt the customer to prefer the same brand for the purchase of a different device at a later date.