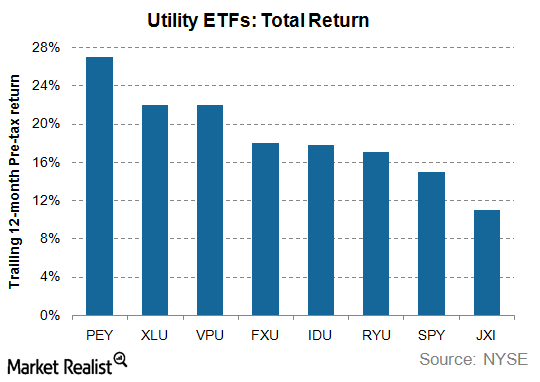 RYU, FXU, and JXI: Will These Utility ETFs Outrun Utility Stocks?
Utility ETFs
The chart below shows the relative total returns of utility ETFs. The Guggenheim S&P 500 Equal Weight Utilities ETF (RYU) invests nearly 80% of its portfolio in US utilities and 20% in telecoms. It yields near 3%.
The FirstTrust Utilities AlphaDEX Fund (FXU) also has a combination of US utilities and telecom stocks. It invests more than 35% in telecom stocks and the rest in utilities. The iShares Global Utilities Fund (JXI) gives exposure to global equities in the utilities industry. It has more than 55% exposure to US utilities and 40% exposure to European utilities.
The iShares US Utilities Fund (IDU) tracks the investment results of an index made up of US utility stocks. It holds 55 stocks from the sector.
Article continues below advertisement