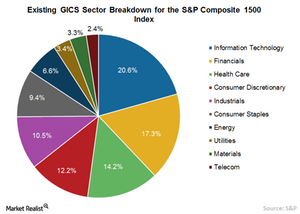 How REIT Classification Benefits Preferred Securities
Excluding traditional financial companies does not mean excluding the attractive income-producing Real Estate Investment Trusts (REITs) segment.[1. Source: FactSet, Wells Fargo, Bloomberg. Data as of July 31, 2016. Based on the Wells Fargo® Hybrid and Preferred Securities Aggregate Index (Preferred Securities, WAGG) and Wells Fargo® Hybrid and Preferred Securities ex Financials Index (Preferred ex Financials, WHPSL). A Real Estate Investment Trust (REIT) is a company that owns, invests in, and typically operates income-producing real estate or real estate-related assets.] In fact, REITs, along with other exchange-listed real estate companies, will be removed from the Global Industry Classification Standard (GICS®)[2. Global Industry Classification Standard (GICS®) is a widely accepted equity securities classification system developed by Morgan Stanley Capital International (MSCI) and Standard & Poor's.] Financials sector and placed in the new Real Estate sector at the end of August.[3. https://www.msci.com/documents/10199/6aac98e5-a0f6-485c-ad7c-20394024e07f, https://www.reit.com/investing/investor-resources/gics-classification-real-estate] We believe that this separate sector classification indicates REITs have become a more robust segment of the market. One positive impact may be increased institutional demand for REITs, as investment managers tend to keep pace with their benchmarks' sector weightings.
Article continues below advertisement
Preferred securities have been a haven for some income investors dealing with a dearth of good income options in the current low interest rate environment. Investors who target preferred securities can do so without overweighting their financials sector exposure and without sacrificing yield potential.
Market Realist – The creation of a new real estate sector under GICS classification
In its first addition since the introduction of the GICS structure in 1999, S&P Dow Jones Indices and MSCI (MSCI) have decided to shift stock exchange-listed equity REITs and other listed real estate companies from the financial sector (XLF) to a new real estate sector. Under this change, the REITs industry is being renamed "equity REITs" and excludes mortgage REITs (MORT), which remain under the financial sector.
Article continues below advertisement
The GICS classification system is a considered a global benchmark, so it has an immense impact on performance analysis and portfolio allocation strategies among investment managers. Classifying REITs as a GICS sector authenticates the importance of real estate and equity REITs as a prominent asset class that can benefit both investors and real estate companies.
As of August 31, the financial sector has the second heaviest weight of 17.3% in the S&P Composite 1500 Index, a broad-based index covering approximately 90% of US market capitalization. After reclassification, real estate is likely to have a weight between 3.5% and 4.5% in the index. Plus, though the exact list of constituents of the new real estate sector is unknown, it's estimated that about 95% of the companies will be listed as equity REITs.
In this world of low growth and low rates, preferreds (PFF) could offer alternative investment options for investors seeking higher relative yield and portfolio security. In the entire universe of preferred securities, ex-financial preferreds (PFXF) could lower huge concentration risk and provide diversification benefits to investors.