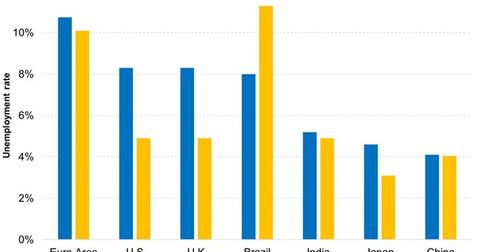 Positive Long-Term Macro Trends Can Grow the Restaurant Industry
By Sanmit Amin

Sep. 19 2016, Published 12:11 p.m. ET
Positive Long Term Macro Trends Can Grow Restaurant Industry
Low unemployment in the U.S. and low oil prices globally mean more disposable income for the middle class domestically and internationally, which has translated into more people eating out at restaurants due as consumption increases. The restaurant industry can provide exposure to the growth of the middle class and consumption in international and emerging markets.
With unemployment rates projected to remain under 10% through 2020, the restaurant industry is likely to benefit as more Americans gain spending power.
Article continues below advertisement
Market Realist – Lower oil prices and unemployment rates globally could support the restaurant industry.
The graph above compares current unemployment levels with those in 2012. As you can see, unemployment rates have declined in major economies, especially developed (EFA) economies. This, coupled with lower oil prices, has helped increase disposable income globally.
Many major US-based restaurants have an international presence. Increased disposable income is positive for these restaurants. Papa John's (PZZA), for example, has seen higher international same-store sales growth (or SSSG) compared to domestic SSSG over the last few quarters.
Restaurant stocks have done remarkably well in the first half of 2016. Despite the many headwinds that currently plague US equity markets, investors could look at restaurant stocks as a port in the storm.
According to Nation's Restaurant News's Top 100 Report, the top 100 largest restaurant chains in the United States saw an increase of 5.9% in aggregate sales in 2015. That's a 4.9% growth from the previous year. Such robust growth was possible due to their global presence, especially in emerging markets (EEM). The BITE ETF can give investors access to restaurants benefiting from multinational presences and to the global restaurant sector as a whole. BITE is up 7.18% YTD. [1. Data as of 9/2/2016, as given by ETF.com]