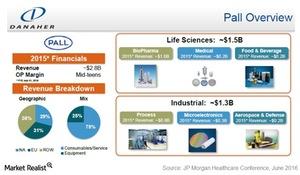 Pall Acquisition Gave Birth to Danaher's Filtration Business
Danaher's Life Sciences: Filtration products
The filtration business came into existence through the acquisition of Pall in 2015. The $2.8 billion filtration business is classified into two parts: life sciences and industrial (IYJ). The life sciences filtration products are sold to customers in three areas: biotechnology and pharmaceutical (PJP), food and beverage (PBJ), and medical end markets. Major competitors of the business include players such as General Electric (GE), 3M (MMM), and Emerson Electric (EMR) through its recent acquisition of Pentair.
Article continues below advertisement
Article continues below advertisement
In the pharmaceutical end market, Danaher's (DHR) serves the filtration requirements of purification intensive drugs, plasmas, and vaccines. In the food space, the company's equipment fulfills the quality testing needs of beer, wine, dairy ,and certain food ingredients. The company's intravenous filters and breathing circuits are used by hospitals to prevent the spread of infection. The biotechnology and pharmaceutical market represents 70% of the $1.5 billion life sciences filtration business. The food and medical end markets each represent 15% of the filtration business.
Danaher's industrial filtration products
Pall's industrial filtration products are sold to a wide range of end markets such as aerospace (XAR), microelectronics, oil and gas, and the power industry. In the aerospace end markets, Pall provides customized solutions to check contaminants in critical fluids such as engine fuel and hydraulic and pneumatic fluids to ensure a safe and secure operation and reduce maintenance costs. Pall provides filters, in addition to various products in the microelectronics market, to remove gelatinous material in thin film transistor displays. The aerospace and microelectronics end markets are responsible for 15% and 23%, respectively, of Pall's $1.3 billion industrial technology business. The remaining portion of the unit is dedicated to process end markets, which include oil and gas and the power industry.