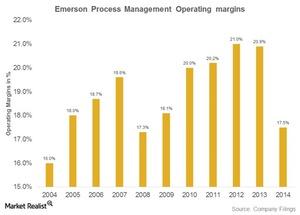 How Emerson Process Management Stacks Up to Competitors
<p>Revenues for Emerson&#8217;s (EMR) Process Management segment have risen from $7.0 billion in 2011 to $8.5 billion in 2015 at a compound annual growth rate of 4%.</p>
Revenues and operating margins for Emerson Process Management
Revenues for Emerson's (EMR) Process Management segment have risen from $7.0 billion in 2011 to $8.5 billion in 2015 at a compound annual growth rate of 4%. Operating margins within the unit have historically been on the higher side.
However, dwindling fortunes in the oil and gas industry (XOP) affected its operating margins in 2015 and recent quarters of 2016. After steadily increasing from 20.4% in 2011 to 22.0% in 2014, operating margins fell to 20.9% in 2015. In the first three quarters of 2016, margins in the segment have averaged 15%.
Article continues below advertisement
Article continues below advertisement
Competitors' operating margins
Among competitors, the operating margins of Rockwell Automation's (ROK) Control Products & Solutions segment steadily rose from 2013 to 2015. Operating margins in 2013, 2014, and 2015 were 13%, 13.4%, and 15.5%, respectively.
At 15.4%, the operating margins for ROK's Control Products & Solutions unit were higher than Emerson's in the first three quarters of fiscal 2016. Parker Hannifin (PH), which recently reported its fourth-quarter results for fiscal 2016, has reported operating margins of 13.1%–14.5% from fiscal 2013 through fiscal 2016.
Honeywell (HON) doesn't provide a breakdown of margins for its Process Solutions unit. However, the Performance Technologies segment, which includes the Process Solutions unit, has had margins of more than 20% in the last three years.
End-market distribution of Emerson Process Management
In 2015, 49% of Emerson Process Management's revenues were derived from the oil and gas industry (XOP). The highly cyclical upstream oil and gas market accounted for 28% of the segment's revenues. The midstream and refining end markets were responsible for 12% and 9% of sales, respectively. The chemical (VAW) and power industries represented about 16% and 14%, respectively, of process management sales.
In terms of geographies, 42% of the segment sales in 2015 came from the United States and Canada, 24% were from Asia, and 17% were from Europe. Latin America and the Middle East and Africa were responsible for 7% and 10% of segment sales, respectively.