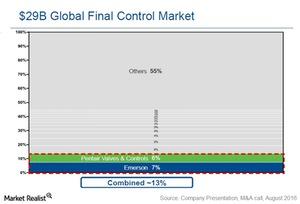 How Emerson Process Management Creates Value for Customers
By Shannon Black

Sep. 20 2016, Published 2:11 p.m. ET
Understanding Emerson Electric's Process Management unit
The Process Management segment of Emerson Electric (EMR) provides software, products, and consulting services that serve several end markets to meet the objectives of process control, monitoring, and optimization. One way to visualize this business is by looking at a typical refinery with a production of 200,000 barrels per day. If crude oil (XOP) on average is priced at $50 per barrel, it would cost about $3.7 billion to buy the entire year's production. If a refiner is able to save 1% of the bill through optimization products or software provided by Emerson, it would save the company $365 million.
This is just one example where process management finds relevance. The amount of savings created by these products and services ensures that they are priced at fairly high margins.
Article continues below advertisement
Optimization creates a lot of savings in an environment where there are high volumes, complexity, and huge investments. So customers of this unit tend to be high-volume manufacturers. Emerson engages a direct sales force in its distribution channel to deal with them. Rockwell Automation (ROK), Parker Hannifin (PH), and Honeywell Process Solutions (HON) are some of this unit's major competitors.
Market share of Emerson Process Management
Emerson is currently the market leader in the $105 billion process automation industry with a market share of 7%. With the acquisition of Pentair's (PNR) Valves & Controls business, Emerson's market share is likely to rise 10% next year and beyond.
There are three parts in the loop control of process automation. The first part is the transmitter, which measures the relevant variable. The second part is the controller, which converts the measurement into a control signal. The third part, the final control element that is mostly a valve, receives the control signal and performs operations based on the nature of the signal. In this $29 billion final control market, Emerson's market share is expected to rise from 7% to 13% with the acquisition of Pentair Valves & Controls.