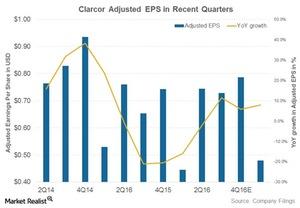 Higher Productivity and Lower Sales Highlight Clarcor's 3Q Results
Clarcor declares 3Q16 earnings
Clarcor (CLC) declared its 3Q16 earnings on September 14 after market hours. The earnings resulted in a negative price action of 0.71% the next day, and the stock fell to $61.44.
Clarcor is a manufacturer of filtration systems and filtration products. The company initially classified its business into three segments: Engine/Mobile Filtration, Industrial/Environmental Filtration, and Packaging. Revenue from the Packaging segment has diminished over the years, and in 2014 it represented just 5% of sales. The company consequently sold this business to CC Industries in June 2015.
Article continues below advertisement
Article continues below advertisement
The company's Engine/Mobile Filtration segment provides filtration systems and filtration products such as oil, coolant, transmission, and hydraulic filters for automobiles (FSAVX), agriculture (MOO), mining (PICK) and construction (XHB) machinery, and power generators. The Industrial/Environmental Filtration segment provides specialty industrial filters for several critical infrastructures and commercial processes. Cummins (CMI), Pall, and Donaldson (DCI) are some of the company's competitors.
Clarcor's adjusted EPS
Clarcor eclipsed Wall Street estimates by four cents with adjusted earnings per share (or EPS) of $0.73. The company managed to increase its adjusted earnings per share by 10.6% year-over-year primarily through prudent cost management, which resulted in improved operating margins. Lower input costs and cost reductions as a part of its company-wide purchasing initiative resulted in an 110 basis-point expansion in gross profits. Selling, general, and administrative expenses were 7.5% lower compared to 3Q15 due to a lower headcount and lower discretionary costs. Overall, these measures resulted in the expansion of operating margins from 10.7% to 15.3.