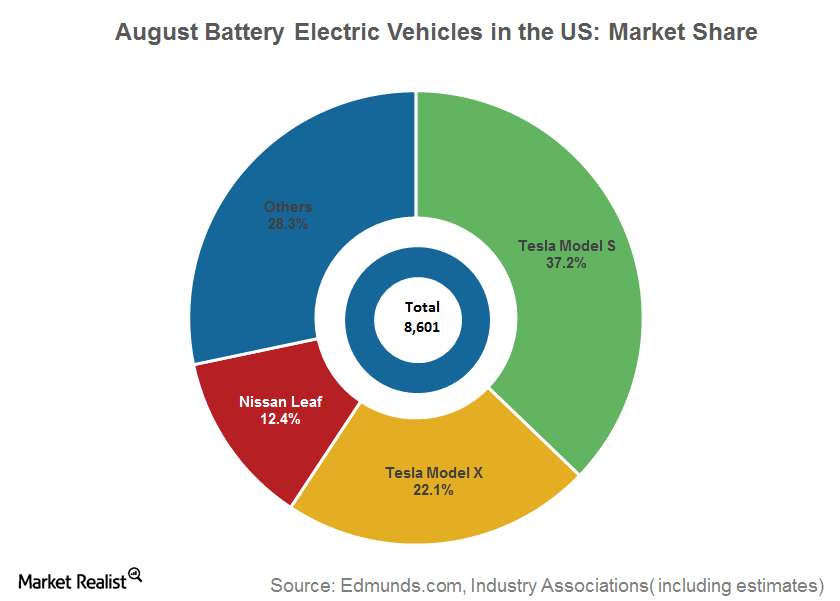 Here's How Tesla Has Changed Perceptions about Electric Vehicles
Electric vehicles
So far in this series, we've looked at August sales for hybrid electric vehicles and plug-in hybrid electric vehicles in the United States. Hybrid vehicles offer better fuel economy and lower carbon footprints compared to traditional combustion engine vehicles. If we move ahead further, we may see all electric vehicles (or EVs) with a zero carbon footprint.
Now let's take a look at how Tesla (TSLA) has changed consumer perception about EVs. Then we'll look at August EV sales data in the United States.
Article continues below advertisement
A look at Tesla Motors
Interestingly, battery-powered EVs have been around for several decades. However, major automakers underestimated their potential. A few years ago, Tesla Motors showcased the true potential of EVs with its Roadster, Model S, and Model X.
Tesla's vehicles are not only environmentally friendly with a zero carbon footprint, but they are also equipped with the latest technology that delivers the best performance in their class.
Despite financial uncertainties, Tesla has certainly changed consumer perception about EVs. It has also attracted the attention of mainstream automakers (FXD), including General Motors (GM), Ford (F), and Fiat Chrysler (FCAU), toward EVs.
Let's find out what August EV sales in the United States suggest.
August EV sales rose
In August 2016, a total of 8,601 battery EVs were sold in the United States. This number represents a rise of ~68% over August 2015.
In August 2016, Tesla's Model S sales were estimated at 3,200, almost double the 1,800 units sold in August 2015 and the highest in the US EV segment. The company's Model X sales were estimated at ~1,900 units. These sales figures are much higher than those of its closest competitor, the Nissan LEAF, which sold 1,066 units in August 2016.
Recently, Tesla announced a major upgrade in its Autopilot system. You can read our series Rising Competition: What's Tesla Doing to Stay Ahead in the Race? to learn more about these updates.
In the next part, we'll take a look at lease penetration data in the US auto industry.