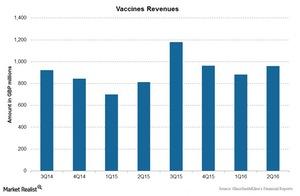 GlaxoSmithKline Giving a Shot to Its Vaccines Business
Vaccines business
GlaxoSmithKline (GSK) is focused on strengthening its vaccines business, so it acquired Novartis's (NVS) meningitis and other vaccines business. The growth of the company's vaccines segment has been driven by increased sales of Rotarix, Boostrix, the newly acquired meningitis vaccines Menveo and Bexsero, and other key vaccines. The below chart shows revenues for the segment.
Article continues below advertisement
Article continues below advertisement
Performance of vaccines business
The vaccines business reported a growth of 11% at constant exchange rates to 960 million pounds in 2Q16. The Novartis acquisition has improved sales for the vaccines business, mainly driven by sales of meningitis vaccines Bexsero in Europe and Menveo in the US and Europe.
The business reported a 2% decline to 626 million pounds during 2Q16 in US markets. The decline was due to the phasing of purchases by the Center for Disease Control and Prevention, partly offset by increased market share of some vaccines like Bexsero, Menveo, Boostrix, and Pediarix.
The European markets reported 11% growth to 325 million pounds during 2Q16. The growth was driven by Bexsero, Menveo, Boostrix, and Hepatitis A vaccine sales.
The international market sales rose 20% on a reported basis to 377 million pounds. The growth was driven by Synflorix, Rotarix, Priorix, seasonal flu vaccines, and Hepatitis A vaccines, partially offset by declining sales of Infanrix/Pediarix.
A major competitor for GSK's meningitis products like Bexsero is Pfizer's (PFE) Trumenba. Sanofi Pasteur (SNY) also has Menactra, another meningitis vaccine. Investors can consider ETFs like the PowerShares International Dividend Achievers ETF (PID), which holds 2.4% of its total assets in GlaxoSmithKline, in order to divest the risk.