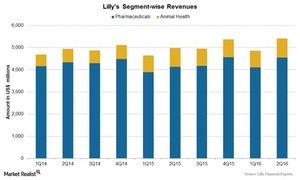 How Are Eli Lilly's Business Segments Performing?
Business segments
Eli Lilly and Co.'s (LLY) overall business is classified into two business segments—Human Pharmaceuticals and Animal Health. Over 84% of its revenues come from the Human Pharmaceuticals segment. It includes different therapeutic areas including endocrine, neuroscience, oncology, cardiovascular, and others.
Article continues below advertisement
Performance for each business segment
GThe growth for the Human Pharmaceuticals segment, which contributes ~84.5% of Eli Lilly's total revenues, was driven by increased sales of products including Humalog, Cialis, Strattera, Effient, Erbitux, and Trajenta. Lower sales of Alimta, Humulin, Cymbalta, and Zyprexa partially impacted the segment's growth. The segment reported revenues of $4.5 billion for 2Q16—an ~10% increase compared to 2Q15. It was mainly driven by an increase in volume.
During the last quarter, US markets reported 15% growth in sales, driven by a 3% positive impact of price and 12% growth in volumes. Japan's revenues increased by over 20% during the last quarter, mainly due to a 16% increase in volumes and an 11% positive impact of currencies. It was partially offset by a 7% decrease in price. These revenues were offset by lower sales volumes in emerging markets and lower prices in the Europe and Canada markets during 2Q16.
Eli Lilly's Animal Health segment operates through Elanco. Elanco contributed ~16% of Eli Lilly's total revenues. It reported 2% growth in revenues at $859.8 million for 2Q16—compared to its revenues in 2Q15.
Investors can consider ETFs like the PowerShares Dynamic Pharmaceuticals Portfolio ETF (PJP). PJP holds ~5.2% of its total assets in Eli Lilly, ~5.1% of its total assets in Allergan (AGN), ~4.9% of its total assets in Lannett Co. (LCI), and ~4.7% of its total assets in Novavax (NVAX).