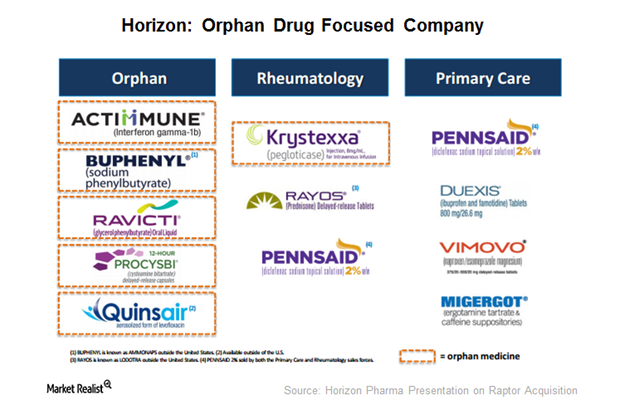 Buy Allows Horizon to Further Expand into Orphan Drug Space
Horizon's focus is on rare disease space
Through the acquisition of Raptor Pharmaceuticals, Horizon Pharma (HZNP) will gain access to two drugs: Procysbi and Quinsair. The merger will also expand Horizon in the orphan drug space.
For more information on HZNP's existing rare disease business, you can refer to Horizon's Orphan Drug Business Faces These Opportunities.
The six key orphan drugs in HZNP's portfolio are Actimmune, Ravicti, Buphenyl, Procysbi, Quinsair, and Krystexxa.
Article continues below advertisement
Procysbi's long patent life
Procysbi is approved for nephropathic cystinosis in the United States and the European Union. It holds five patents and a long patent life with protection until 2034. The orphan drug exclusivity for the drug in the United States is until 2020/2022. In the European Union, the exclusivity extends to 2023. It's a second-generation medicine with delayed release capsule dosing.
Quinsair
Quinsair is an antibiotic approved in the European Union and Canada. The drug isn't approved in the United States. It's a levofloxacin-inhaled formulation indicated for the management of chronic pulmonary infection in cystic fibrosis (or CF), a rare disease.
Vertex Pharmaceuticals (VRTX) with its two key drugs, Orkambi and Kalydeco, remains the major company operating in the CF space. Other companies such as Pfizer (PFE), Shire (SHPG), and Genzyme, a Sanofi company, are also exploring the CF space.
If Horizon surpasses the consensus revenue and EBITDA (earnings before interest, tax, depreciation, and amortization) numbers in 2016, its share price may rise.
To gain exposure to a growing rare disease company such as Horizon, you can invest in the ProShares Ultra Nasdaq Biotechnology (BIB). The fund holds 0.38% of its assets in Horizon.
In the next part, we'll look at Procysbi's revenue drivers and its peak sales potential.