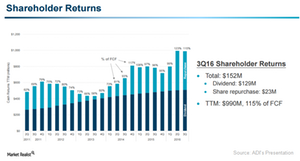 How Will Linear Technology's Acquisition Impact Analog Devices' Shareholders?
By Puja Tayal

Aug. 22 2016, Updated 5:59 p.m. ET
ADI's acquisition and cash flow
Analog Devices (ADI) is looking to boost its overall earnings by acquiring its rival Linear Technology (LLTC) in a cash-and-stock deal of $14.8 billion, of which ~$11 billion would be paid in cash and the remaining in stocks.
In fiscal 3Q16, ADI's operating cash flow fell by 20.7% QoQ (quarter-over-quarter) to $254 million, and its accounts receivable increased by $54 million. The company spent $37.5 million in capital expenditure, which resulted in FCF (free cash flow) of $216.5 million.
Article continues below advertisement
Return to shareholders
In fiscal 3Q16, ADI spent $23 million on share buybacks and $129 million on dividend payments. Over the past 12 months, ADI generated FCF of $1.1 billion, of which it returned $1 billion to its shareholders.
After the merger with Linear Technology, ADI's annual FCF would increase to $1.7 billion. However, ADI would make adjustments to its capital allocation strategy, giving first priority to debt repayment. So the company will halt its share repurchase program, most likely, for three years, until it reaches the desired debt level. However, it plans to continue to pay a dividend.
Cash and debt 
As of July 30, 2016, ADI's cash reserves stood at $3.8 billion, as compared to its long-term debt of $1.7 billion. The company will likely raise new debt to the tune of $7.3 billion and use its cash reserves to fund its upcoming acquisition. This would increase ADI's debt level to $9 billion in fiscal 4Q16 and reduce its cash reserves to ~$1.3 billion, which is the cash sitting in LLTC's balance sheet.
The combined companies would have a net debt-to-EBITDA (earnings before interest, tax, depreciation, and amortization) ratio of 4.4x, which ADI plans to reduce to 2x over the next three years. This would mean a debt repayment of ~$1 billion every year from its FCF.
Recently, ADI acquired Sypris Solutions' Cyber Security Solutions for a cash consideration of ~$42 million. This would further reduce ADI's cash reserves in fiscal 4Q16.
Acquisitions have increased the leverage of many semiconductor companies, including NXP Semiconductors (NXPI) and Broadcom (AVGO), whose net debt-to-EBITDA ratios have increased to 4x and 7x, respectively.
Now let's look at the impact of the LLTC acquisition on ADI's earnings.