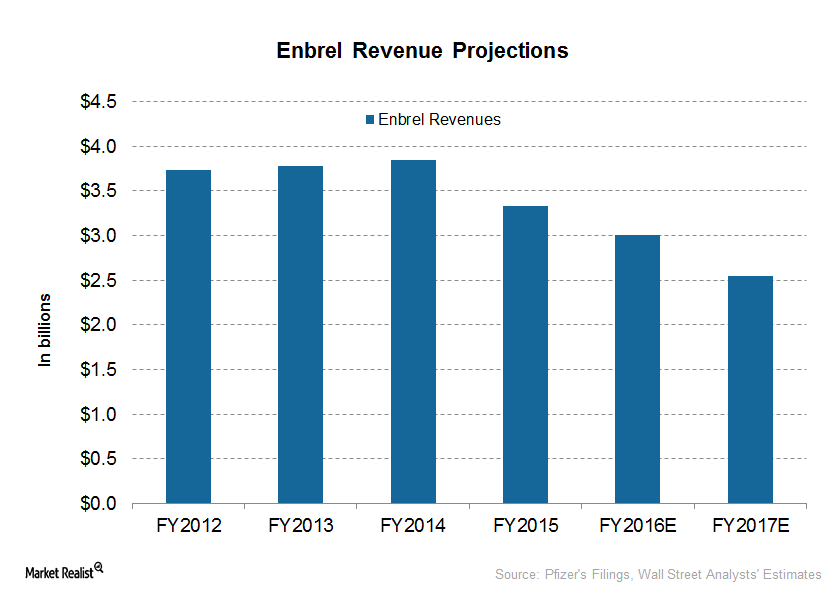 Why Pfizer's Enbrel Faces a Sales Decline
With biosimilar entry, Enbrel set to decline
Pfizer's (PFE) Inflammation & Immunology (or I&I) portfolio is included under its Innovative health (or IH) business. The I&I therapeutic area for Enbrel lies outside the US and Canada.
Enbrel is indicated for treating moderate to severe rheumatoid arthritis, polyarticular juvenile rheumatoid arthritis, psoriatic arthritis, plaque psoriasis, ankylosing spondylitis, and non-radiographic axial spondyloarthritis.
Pfizer records the sales from Enbrel outside the US and Canada. Enbrel's sales in the US and Canada are recorded by Amgen (AMGN).
During 2Q16, the drug's revenues outside the US and Canada fell by 3% to total $766 million. The decline followed the availability of the first biosimilar drug along with a price reduction in certain European markets. Its revenue from developed Europe stood at $504 million during 2Q16.
Biogen (BIIB) and Samsung won Europe's first biosimilar approval for Enbrel. The biologics market for rheumatoid arthritis (or RA) is dominated by AbbVie's (ABBV) Humira along with Enbrel in Europe. These two drugs block tumor necrosis factor (or TNF).
Article continues below advertisement
How much will Enbrel earn in 2016 and 2017?
Wall Street analysts expect Enbrel to earn $3 billion and $2.5 billion from the sale outside US and Canada in fiscal 2016 and 2017, respectively. To overcome the falling Enbrel, Pfizer has developed its own RA drug, Xeljanz. We'll discuss the drug in detail in the next article.
The VanEck Vectors Pharmaceutical ETF (PPH), the fund offers exposure to Pfizer. The fund invests ~4.9% of its assets in Pfizer.