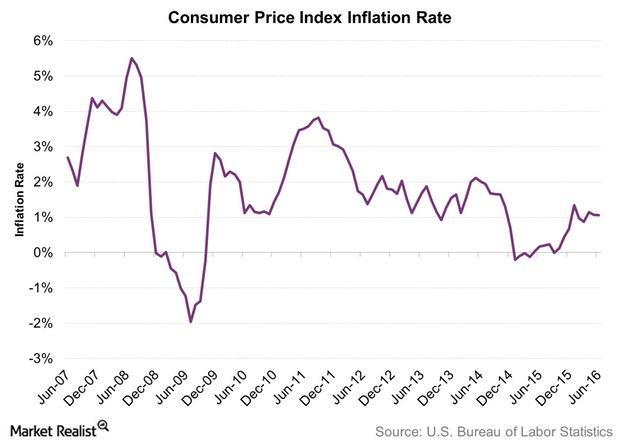 Why Does Janus Think Inflation Is on the Rise?
The first hints
In a note titled "Is Inflation Bubbling Below the Surface," published in August, the Janus Asset Allocation Team said that it first noted the risk of rising inflation in late 2015. The indicator was an apparent rise in unit labor costs. In the "Janus Market GPS," published in January, the team had outlined its belief that a low unemployment rate signaled tighter labor market conditions, and further job additions would be at the cost of reduced productivity.
Article continues below advertisement
Article continues below advertisement
Outliers no more
The team states that its view regarding inflation risk "was outside consensus forecasts at the time." However, at present, their model "indicates that financial markets reflect the possibility that a long-delayed upward move in prices may be on the horizon."
The movement in inflation is pivotal to any future rate increases (BSV) (GOVT). All three major economic indicators that the Federal Reserve releases quarterly projections on (economic growth, inflation, and unemployment rate) are closely interrelated. An increase in consumer spending (PEP) (CMCSA) (DIS), which is vital for economic growth, also leads to a rise in inflationary pressures. High consumer spending means demand is increasing, thus leading to a rise in prices.
Meanwhile, a low unemployment rate and other labor market metrics like monthly job addition numbers and a rise in wages, increases consumers' purchasing power, thus leading to a rise in prices.
If the Federal Reserve is confident about moderate growth in consumer spending, as well as further tightening of the labor market, it would lead to building inflationary pressures.
Investors should prepare for inflation
The Janus Asset Allocation Team thinks that investors should get ready for a rise in inflation. According to the team, it's important to find the source of price increases and understand how they will impact the financial markets.
The team argued that it may be time to move from monetary to fiscal stimulus. Let's look at this argument in the next article.