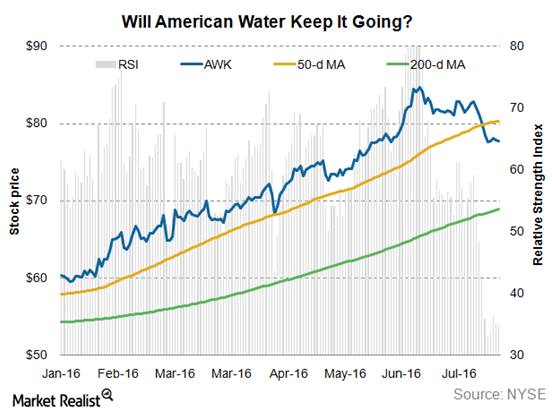 What's ahead for American Water Works Stock?
Technical indicators
American Water Works' (AWK) investors are likely concerned by the fact that the stock has corrected by approximately 12% since July 2016. But the stock has rallied by nearly 40% since the beginning of the year. So let's examine what the technical indicators are signaling.
As of August 16, 2016, American Water was trading at a discount of 3% to its 50-day moving average. On a positive note, the stock was still trading at an 11% premium to its 200-day moving average as of the same date.
Article continues below advertisement
Moving averages can be analyzed in two ways. The first method is price crossover. The second is by using two or more moving averages. The first method shows that when a stock price goes above a particular moving average, it's a bullish sign, and vice versa. But according to the second method, when a shorter moving average crosses over a longer moving average, it's a "buy" signal for the stock.
Relative strength index
The RSI (Relative strength index) of American Water Works is currently 34. Remember, RSI is a momentum indicator made up of values between 0 and 100, and movements below 30 are considered in the "oversold" zone, while movements above 70 are considered in the "overbought" zone. AWK's RSI fell to ~34 from ~60 after the stock declined in early August.
Overall, water utilities (FIW) seem to have lost their sheen recently. Aqua America (WTR) is trading at a 5% discount to its 50-day moving average but at a 3% premium to its 200-day moving average.
Peers California Water Service (CWT) and American States Water (AWR) have also broken below their shorter moving averages. Both stocks are chasing their longer moving averages, and breaking below their 200-day moving average levels could indicate a downward trend ahead.
In the next and final part, we'll discuss the outlook and price targets of US water utilities.