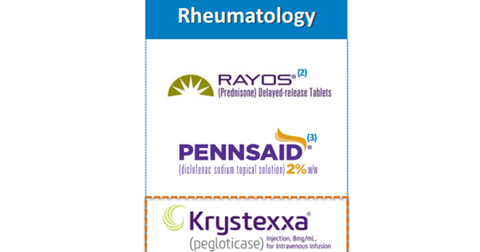 Understanding the Growth Drivers behind Horizon's Rheumatology Business Unit
By Jillian Dabney

Updated
Rayos
Horizon Pharma's (HZNP) Rheumatology portfolio includes Rayos, or Lodotra, and Krystexxa. Rayos (also known as Lodotra outside the US) is a delayed-release prednisone, which is indicated for rheumatoid arthritis, PMR or Polymyalgia rheumatica, and Lupus. Pennsaid is a NSAID (non-steroidal anti-inflammatory drugs) sold by both Horizon's Primary Care and Rheumatology divisions.
Rayos prescriptions grew by 34% to 10,874 in 2Q16 on an annual basis. Improvements in the commercial coverage of the drug and the sales force's deeper coverage of the rheumatology market have driven the drug's volumes.
Wall Street analysts expect Rayos to earn $47.3 million in 2016 and $51 million in 2017. Rayos competes with various rheumatoid arthritis therapy options including steroids, methotrexate, and biologics such as AbbVie's (ABBV) Humira, Amgen's (AMGN) Enbrel, and Johnson & Johnson's (JNJ) Remicade.
Article continues below advertisement
How will Horizon drive Krystexxa?
Krystexxa changed many hands before coming to Horizon. Krystexxa is a biologic indicated for use in chronic refractory gout patients. (For details on Krystexxa's peak sales opportunity, you can check out "Introducing Krystexxa, the Latest Addition to Horizon's Orphan Portfolio.") Specifically, one of the major steps Horizon has taken to increase the penetration of Krystexxa has been an increase in specialty account managers from 15 to 43.
Meanwhile, Horizon is conducting a TRIPLE trial for Krystexxa to evaluate its immunogenicity after an increase in the dosing frequency when compared with the original clinical program. The trial was initiated in January and was expanded to include patients with increased weight.
For communicating safety and efficacy of the drug, Horizon submitted multiple abstracts on Krystexxa to American College of Rheumatology. This commercial expansion and clinical education will likely help Horizon build a long-term foundation for the drug.
To divest risk, investors can always look into ETFs like the iShares Nasdaq Biotechnology ETF (IBB), which has 0.65% of its Horizon.
Continue to the next and final part for a look at Horizon's analyst recommendations.