The Word on the Street: What Analysts Are Recommending for Joy Global Now
Of the 17 analysts surveyed by Bloomberg, only five issued "buy" recommendations for Joy Global, while 11 issued "holds," and one issued a "sell."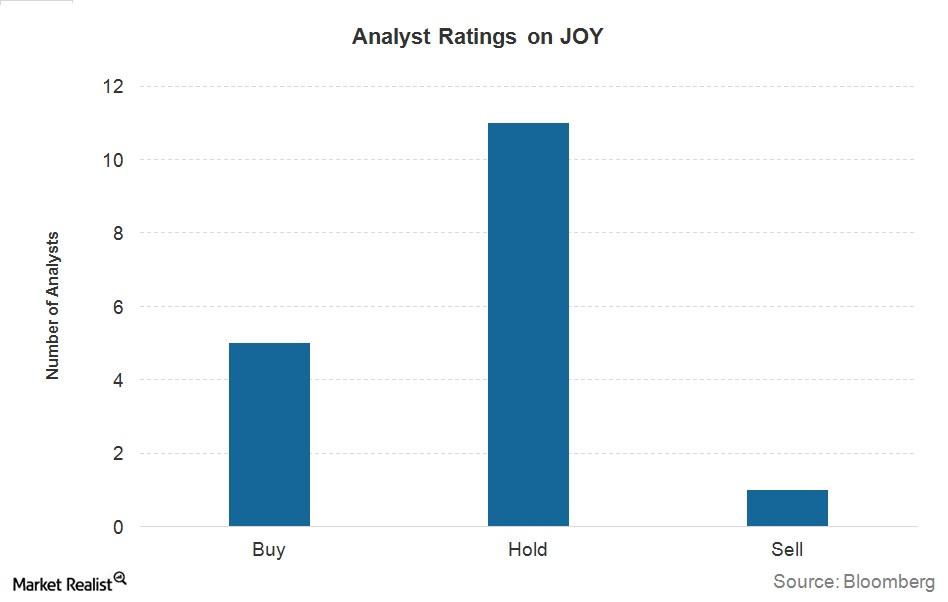 JOY's analyst recommendations
Wall Street analysts do not have a very positive view of Joy Global (JOY) right now. Of the 17 analysts surveyed by Bloomberg, only five issued "buy" recommendations for JOY, while 11 issued "holds," and one issued a "sell." Analysts have given an average price target of $24.9, which is 8.9% lower than the stock's closing price of $27.36 on August 12.
The high, low, and median target prices for JOY are $28, $19, and $10, respectively. Notably, Joy Global is a component of the SmallCap Earnings Funds (EES), which invests ~1.4% of its total portfolio in the company.
Article continues below advertisement
Article continues below advertisement
JOY's ratings before the 3Q16 results
Barclays (BCS) gave an "overweight" rating on JOY's stock, with a price target of $28 on July 21, 2016. This price target implies 2.5% potential appreciation over the share price of $27.3 on August 12.
RBC Capital Markets (RBC) gave JOY a "sector performer" rating to JOY, with a price target of $28.3 on July 26. The price target implies a 3.6% gain over the stock's closing price on August 12.
J.P. Morgan (JPM) gave JOY a "neutral" rating on July 21, with a price target of $17. This target implies a 37.7% potential price decline over JOY's share price of $27.3 on August 12.
What do these recommendations mean?
The Wall Street analyst recommendations for JOY are titled toward a "hold." We believe this rating is a neutral sign that reflects JOY's presence in oversupplied commodities markets as well as the recent capital expenditure cuts by mining customers, which have impacted JOY's operational performances. That said, we should remember that JOY's order book has been increasing during the past two fiscal quarters.
Joy Global's expects its fiscal 3Q16 revenue to be 23.5% lower than in 3Q15, and it expects its EPS (earnings per share) to be $0.11 in fiscal 3Q16, as compared to $0.54 in 3Q15.
JOY also expects that mining markets will begin to recover in 2H16. But will JOY exceed the analysts' consensus expectations for revenues and EPS in fiscal 3Q16? And will JOY's shareholders give a green light to the Komatsu merger, or will the deal fail?
For these answers, we'll simply have to watch and wait.