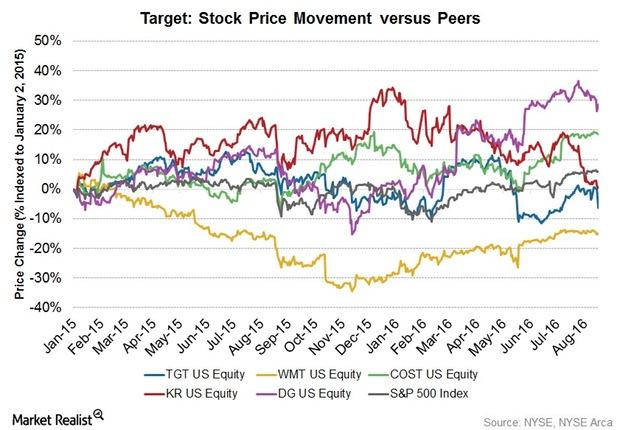 Target's Stock Price Fell 6.4% after Fiscal 2Q16 Earnings
Volatile movement since the start of 2016
Target's (TGT) stock price fell 6.4% to $70.63 on August 17, 2016, after the company released its fiscal 2Q16 earnings. Target's stock has been volatile since the start of 2016. The stock fell 19.4% to $67.06 on May 19, 2016, from $83.29 on April 27, 2016. The fall came after Target announced its pro-transgender policy to its family customer base.
Article continues below advertisement
Article continues below advertisement
Target versus peers on stock movement
The Family Policy Institute estimated a loss of $10 billion from the overall shareholder value of the company. However, the stock started to pick up momentum in July 2016. On a YTD (year-to-date) basis, Target's stock has fallen ~4%. In comparison, the S&P 500 Index (SPY) (IVV) (VOO) has risen 8.4% YTD and 6.0% since January 2015.
In contrast, the stock prices of Costco Wholesale (COST), Kroger (KR), and Dollar General (DG) have risen 18.6%, 0.4%, and 28.5%, respectively, since January 2015. In contrast, Walmart's (WMT) stock has fallen 15.1% since January 2015.
Dividends and share repurchases
In June, Target announced a 7.1% increase in its quarterly dividend, supporting its 45-year record of annual dividend increases. In fiscal 2Q16, Target returned $1.7 billion to shareholders, which consisted of $330 million of dividends and share repurchases of more than $1.3 billion. The company has repurchased ~$8.8 billion of shares under its current $10 billion repurchase authorization.
Rise in return on invested capital
For the trailing 12 months through fiscal 2Q16, Target's after-tax ROIC (return on invested capital) was 15.8%, compared with 13.3% for the 12 months through fiscal 2Q15. Excluding the net gain on the sale of the pharmacy and clinic businesses, the company's ROIC for the trailing 12 months through 2Q16 was 13.7%, reflecting higher profits on a modestly lower base of invested capital.
The retailer is looking to generate savings from process and supply chain improvements, cost of goods sold, corporate efficiency initiatives, and efficiencies in procurement, among other initiatives.
Target makes up 0.3% of the PowerShares FTSE RAFI US 1000 Portfolio (PRF).[1. Updated on August 17, 2016.]