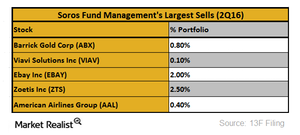 Why Did Soros Fund Management Reduce Its Holdings in Barrick Gold?
Soros Fund Management
Billionaire investor George Soros, who said in April 2016 that gold was the only asset that could outperform in the current market (VOO) (IVV) (QQQ) environment, is now getting out of gold (GLD). As of June 30, 2016, Soros Fund Management had sold 18.3 million shares in Barrick Gold (ABX), according to the 13F filing.
Article continues below advertisement
Article continues below advertisement
Barrick Gold
Soros Fund Management's portfolio was heavily tilted toward gold and gold miners in the first quarter of 2016. Barrick Gold was Soros Fund Management's top holding in 1Q16. It constituted 13.1% of the company's portfolio. Barrick Gold is the biggest gold producer in the world. According to an institutional ownership report, Soros Fund Management was the eighth-largest investor in Barrick Gold (ABX), holding about 19.4 million shares worth $264 million as of March 31, 2016. The largest investor in ABX is VanEck Associates with 59.7 million shares as of June 30.
As of June 30, 2016, Soros has a holding of 1.1 million shares in ABX. ABX constituted 0.8% of the firm's portfolio. The decreased position in the gold miner is raising a question in investors' minds about whether George Soros thinks gold has hit its peak.
Gold (GLD) (GDX) has rallied nearly 26% on a YTD (year-to-date) basis as of August 22, 2016. The rise in gold prices has provided a bigger boost to gold miners such as Barrick Gold (ABX) and Newmont Mining (NEM). These companies have rallied nearly 164% and 135% YTD, respectively, as of August 22. Read What's the Best Approach to Chasing the Gold Rally in 2016? to learn more.
In the next part of this series, we will analyze the Soros Fund Management's largest position as of June 30, 2016.