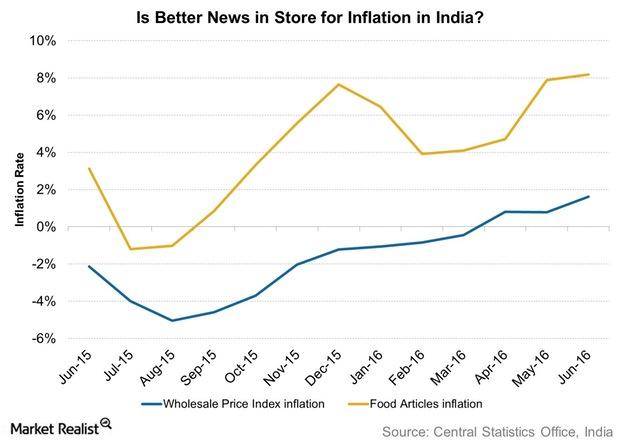 What Risks Does the RBI See for Retail Inflation?
Core inflation remains benign
In the previous two part, we saw how retail inflation growth has been a roadblock in the RBI's (Reserve Bank of India) path to more monetary accommodation. Food prices have been the main drivers of retail inflation in the past three months.
On the other hand, fuel inflation (BP) (STO) (RDS.B), another important component, "remained subdued," according to the August monetary policy statement issued by the RBI. The main reason for subdued fuel inflation is the fall in prices of liquefied petroleum gas.
The RBI also said that core inflation, which excludes fuel and food prices from calculations, fell across major subgroups.
Article continues below advertisement
Article continues below advertisement
There are risks to inflation
According to the August 2016 statement released by the RBI, "The recent sharper-than-anticipated increase in food prices has pushed up the projected trajectory of inflation over the rest of the year." While prices of food items like pulses and cereals are rising, inflation in the service sectors remains sticky.
Good monsoon showers indicate that food prices might come down going forward. Appropriate food supply management measures would also help in checking the price rise in food items. However, if the soft reading in crude oil prices doesn't persist, then it might contribute to a rise in core inflation. This could negate the previously mentioned benefits of an expected fall in food prices.
Another factor that poses a risk to retail inflation is the implementation of the seventh central pay commission. This will increase the allowances paid to central government employees. It will impact house rents and overall retail inflation.
As a result, the RBI thinks that risks to inflation are "tilted to the upside." A subsequent rise in inflation could have a negative impact on consumer spending and Indian corporates' revenues. This can feed into India-focused funds (MINDX) (PIN) as well.
In the next part, we'll look at the RBI's views on India's economic growth.