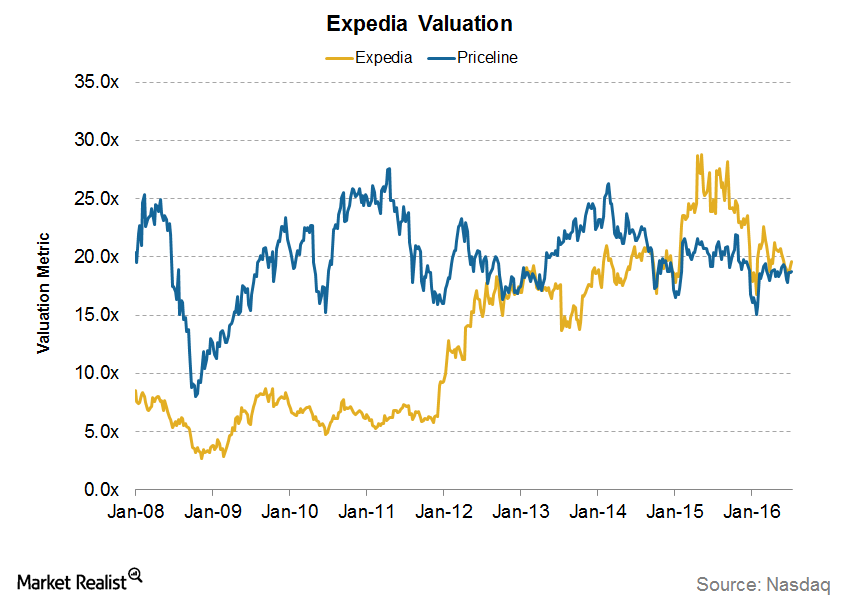 Priceline's Valuation after 2Q16: What's Priced In?
Current valuation
The market is expecting Priceline's EBITDA (earnings before interest, tax, depreciation, and amortization) to grow by 14.8% in 2016 and then increase to 16.5% in 2017. Rival Expedia's EBITDA is expected to grow at a much higher rate of 47% in 2016, and then to decelerate to 24% growth in 2017.
As you can see in the graph above, Priceline has mostly traded above Expedia since 2006, moving below Expedia only in 2015. Other players like TripAdvisor (TRIP), Ctrip.com (CTRP), and Qunar (QUNR) are not strictly comparable and are thus excluded.
Article continues below advertisement
Our analysis
Priceline's (PCLN) business is heavily dependent on how travel demand grows and the shift to online booking. Growing consumer disposable income and lower air fares are expected to bode well for the industry.
However, all this depends on global economic conditions, which continue to remain uncertain. Declining growth in major Eurozone economies, the risk of deflation, rising sovereign debt, and absence of a political consensus in the face of all this puts a big question mark on future economic outlook. In such a situation, any adverse measures by governments will impact travel demand.
These trends will also weaken hotel ADRs (average daily rates) as consumers will prefer to book low ADR accommodations. This would be a huge negative for PCLN because it adversely impacts PCLN's key revenue driver—hotels.
Currency fluctuations
Also, currency fluctuations are a huge risk, as they not only impact PCLN's revenues when translated to the US dollar but also the travel trends in those particular economies (like reduced travel demand from the UK to other international destinations, given the substantial fall in the British pound). The strengthening US dollar should continue to act as a dampener, and so investors should keep track of trends in the dollar.
Investors should also keep an eye on Priceline's (PCLN) increasing leverage as increasing leverage should make the stock more volatile.
Remember, Priceline makes up about 7.9% of the NASDAQ Internet Portfolio ETF's (PNQI) holdings.
Keep checking in with Market Realist's Consumer Discretionary page for ongoing updates.