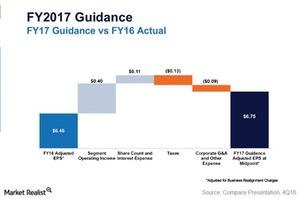 Parker-Hannifin's 2017 Guidance Suggests Slowdown in Industrials
Parker-Hannifin's orders in 4Q16
Parker-Hannifin (PH) provides details on orders on an absolute dollar basis. Orders in its Diversified Industrials North America segment fell 10% based on a three-month rolling average. Declines in natural resource-related industry orders such as those from mining (PICK), agriculture, oil, and gas continue to offset order growth from telecom (IYZ), life sciences, and refrigeration end markets.
Orders in Diversified Industries International increased 3% on a three-month rolling average. There was healthy growth of 19% in Latin America and 6% in Asia. Orders in the Aerospace segment increased 14% on a 12-month rolling average basis on higher orders from military customers.
Article continues below advertisement
Article continues below advertisement
Parker-Hannifin's fiscal 2017 adjusted EPS guidance
Parker-Hannifin has guided its fiscal 2017 adjusted EPS (earnings per share) at $6.40–$7.10. The midpoint of this range is roughly 4.5% higher than $6.46 in fiscal 2016.
A major portion, or $0.40, of this growth is likely to be achieved from operating margin expansion as the company continues to accumulate benefits from restructuring spends incurred in fiscal 2016. Its segment margins in fiscal 2017 are expected to be 15.2%–15.6% compared to fiscal 2016 margins of 14.8%. A lower share count is expected to bump adjusted EPS by $0.11.
Parker-Hannifin's fiscal 2017 sales guidance
Except for the Diversified Industrials (IYJ) North America segment, Parker-Hannifin expects the remaining two segments to register positive year-over-year growth in sales. It expects sales growth in fiscal 2017 to be -1.5%–2.1%.
Due to the 10.6% sales decline in fiscal 2016, the appearance of a growth in sales is due to a favorable comparison. The outlook doesn't indicate a large uptick in industrial (XLI) activity.
Parker-Hannifin's story in fiscal 2017 could be similar to fiscal 2016 with strong operations masking weak revenue. This is along the lines of the scenarios unfolding in the second half of 2016. Anemic global growth is expected to be a dampener for other multi-industrials companies such as Danaher (DHR) and 3M (MMM).