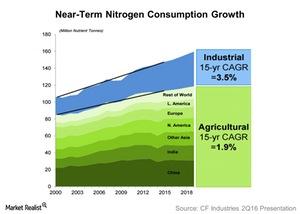 How Much Demand Will There Be for Nitrogen in the Near Term?
Nitrogen demand
Previously in this series, we discussed why prices for nitrogen fertilizer, such as urea, are significantly down this year. The supply side (XLB) has shut down operations to balance with the demand in light of low realized prices for fertilizers. But what are the expectations for near-term demand?
Article continues below advertisement
Demand will grow
The chart above shows two primary users of nitrogen—agricultural and industrial. The majority of nitrogen is consumed for agricultural fertilizers, with China and India having the largest share.
With respect to agricultural consumption, urea accounted for 57% of the total global demand through 2015. The remaining 43% came from the rest of the nitrogen fertilizers, such as CAN (calcium ammonium nitrate), UAN (urea ammonium nitrate), and ammonia.
According to CF Industries (CF), the agricultural consumption growth for nitrogen fertilizer will average 2% each year until 2018. Industrial consumption growth should average 3.5% over the same period.
Thus, a spike in nitrogen fertilizer prices appears to be less likely in the remainder of 2016, given the soft growth in demand. This will continue to weigh negatively on CF Industries, PotashCorp (POT), CVR Partners (UAN), and Terra Nitrogen (TNH).
Outlook on fertilizer prices
In light of subdued demand, as well as low fertilizer prices and producers in China shutting down their operations, there is hope that prices could rebound—but when?
According to CF Industries, nitrogen prices could remain under pressure as new capacities come online in 2017. However, the company believes that things should improve in 2018.
In the next part, we'll discuss the state of phosphorous fertilizers.