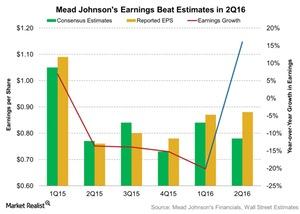 Why Did Mead Johnson Nutrition's Earnings Rise 16% in 2Q16?
Earnings rose, beating estimates
In 2Q16, Mead Johnson Nutrition's (MJN) EPS (earnings per share) increased 16% to $0.88, compared to $0.76 in 2Q15. Earnings also beat analysts' estimates by ~13%. Net earnings for the quarter were around $164 million—an increase of 6% compared to 2Q15. Currency translation had a negative impact of $0.06 per share on the company's earnings.
Article continues below advertisement
Article continues below advertisement
Effect on earnings
Let's look at what impacted the company's earnings. In 2Q16, non-GAAP (generally accepted accounting principles) EPS increased by $0.18 on a constant-dollar basis, compared to the prior year's corresponding quarter. Sales impacted EPS by $0.07 per share. The share repurchase program and taxes contributed $0.02 and $0.06, respectively, to EPS. There was also a $0.06-per-share impact from advertising and promotion expenses, but this was offset by savings of $0.11 from the "Fuel for Growth" initiative. Foreign exchange also negatively impacted EPS by $0.10.
Share repurchase program
During its Investor Day in October 2015, Mead Johnson Nutrition announced a new accelerated share repurchase authorization of $1.5 billion of the company's common stock.
Around 10.7 million shares were repurchased in 4Q15. Additionally, 2.1 million shares of stock were repurchased on June 30, 2016, bringing the total repurchase to date to 12.8 million shares of stock, repurchased at an average price of $78.05 per share. The company also paid a total of $155 million in dividends in the first half of 2016, making its dividend yield 1.8%, as of August 1.
Peers' earnings
Mead Johnson Nutrition's peers in the industry include ConAgra Foods (CAG) and Flowers Foods (FLO). They saw their earnings fall 12% and 4%, respectively, for their last reported quarters. The Guggenheim S&P Equal Weight Consumer Staples ETF (RHS) invests 3.1% of its holdings in Mead Johnson Nutrition's stock. Also, the Vanguard Mid-Cap Value ETF (VOE) invests 1.2% of its holdings in ConAgra Foods' stock.