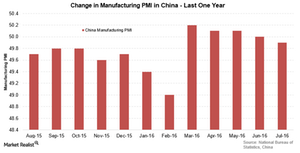 Manufacturing PMI Releases across Asian Economies, China Struggles
Chinese manufacturing activity contracts
The official manufacturing PMI (purchasing managers' index) for China, published by the National Bureau of Statistics of China, came in at 49.9 for July—slightly below the previous month's reading of 50. The manufacturing output and new orders eased in July, while export growth continued to shrink. On the other hand, the non-manufacturing PMI for China (FXI) (MCHI) released at 53.9 for July—compared to 53.7 in June. Business activity rose and the index reached the highest level since December last year. The manufacturing PMI published by Caixin rose to 50.6 in July from 48.6 in June. It released in the expansionary domain for the first time since February 2015.
Article continues below advertisement
Article continues below advertisement
South Korea's trade balance rose
The trade balance for South Korea (EWY) released at a surplus of $7.8 billion in July 2016—compared to a positive balance of $7.06 billion in the same month last year. A fall in crude prices globally contributed to a 14% fall in imports on an annual basis in July—compared to an 8% decline in June. Exports to major trade partners also reduced by 10.2% in July on an annual basis due to weakening demand overseas. Manufacturing activity in the Asian (AAXJ) country also slowed in July. The manufacturing PMI fell to 50.1 from 50.5 in June due to sluggish economic output.
Manufacturing PMI and inflation growth
The manufacturing PMI improved in July for Japan (EWJ) (49.3 from 48.1), India (51.8 from 51.7), Taiwan (EWT) (51.0 from 50.5), and Malaysia (48.1 from 47.1). It contracted for Indonesia (48.4 from 51.9) and Russia (49.5 from 51.5). Inflation rates eased for Thailand in July to 0.10% from 0.38%. Consumer prices also released on a sluggish note for Indonesia—slowing from 3.5% to 3.2% in July on an annual basis.