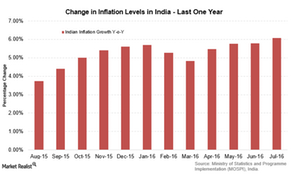 Malaysian GDP Grew Slower, Inflation Beat Expectations in India
By David Meyer

Updated
Malaysian GDP met expectations
The Malaysian economy grew by 4.0% on an annual basis in 2Q16—in line with estimated forecasts and against 4.2% growth recorded in the previous quarter. It was the fifth instance of easing seen in the GDP growth. Net exports continued to fall in the Malaysian economy even as investments and private and government spending grew. On a quarterly basis, the Malaysian economy grew by 0.7% in 2Q16—compared to 1.0% growth in the previous quarter. The iShares MSCI Malaysia (EWM) fell by 0.95% and the iShares MSCI All Country Asia ex Japan (AAXJ) fell by 0.18% on August 12.
Article continues below advertisement
Industrial production, retail sales grew in China
Industrial production in China rose in July on an annual basis by 6.0%—compared to growth of 6.2% in the previous month. The growth was driven by an expansion in the utilities segment, followed by water production and manufacturing. It was partially offset by negative growth in the mining sector. On the other hand, retail sales in China grew by 10.2% on an annual basis in July—slower than 10.6% growth in June. It was supported by an increase in building materials, furniture, home appliances, and the automobile segment. The iShares China Large-Cap (FXI) fell by 0.95%, while the iShares MSCI China (MCHI) rose by 0.74% on August 12.
Indian inflation rose by 0.4%
Consumer prices in India rose by 6.1% on an annual basis in July, following a rise of 5.8% in June. It was higher than estimated forecasts of 5.9% growth. Consumer prices reached the highest level since August 2014—driven by an increase in food costs.
Industrial production in India rose by 2.1% in June—compared to a 1.2% increase in the previous month and expectations of a 1.5% increase. The iShares MSCI India (INDA) rose by 0.27% on August 12.