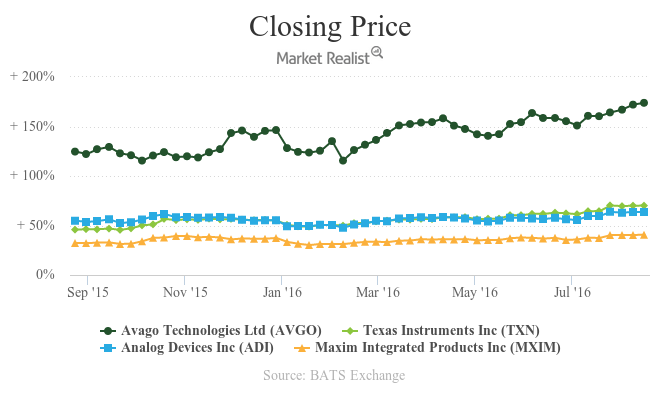 What's Caused Avago-Broadcom to Outperform Its Peers in 2016?
By Puja Tayal

Dec. 4 2020, Updated 10:53 a.m. ET
AVGO outperforms its peers
In this series, we've learned that Broadcom (AVGO) is set to report single-digit revenue growth in fiscal 3Q16.
Fiscal 3Q16 will be the first quarter in which investors come to know the growth potential of Avago-Broadcom as a combined entity. Hence, all estimates are on a sequential basis. As we've already looked at the financial performance of the combined company, let's now look at the stock's performance post-merger.
[marketrealist-chart id=1567103]
Mergers and acquisitions have worked well for Avago in the past, and they're working well for the company even now. Avago completed the Broadcom merger at the start of February 2016. Since then, the combined company's stock has risen by 52.5% and is currently trading at a 52-week high of over $177.
AVGO has outperformed rival Analog Devices (ADI), which has risen by 30.6%, Maxim Integrated (MXIM), which has risen by 28%, and Texas Instruments (TXN), which has risen by 38.9% in the same period. AVGO has also outperformed the S&P 500 Index, which has risen by 19.6% in the same period.
Article continues below advertisement
AVGO is less volatile than its peers
AVGO has the lowest beta of 1.11 compared to its peers. ADI has a beta of 1.24, TXN of 1.26, and MXIM of 1.17. Beta is a measure of volatility, with less than 1 being less volatile and more than 1 being more volatile.
Volatility is visible in the above graph. In the past seven months, there have been two major events that have had a strong impact on the analog IC (integrated circuit) market. The first took place between July 23 and 27, 2016, when Britain voted to exit the European Union. The entire stock market plunged, with the S&P 500 Index falling by 5.3%, TXN falling by 6.7%, MXIM falling by 10.7%, ADI by 9.6%, and AVGO by 9.5%.
The next big event occurred when ADI announced its acquisition of Linear Technology (LLTC) on July 26, 2016. Following this announcement, MXIM's stock rose by 5.4%, TXN's rose by 7.9%, ADI's by 3.9%, and AVGO's by just 2.3%.
AVGO has a market cap of $70.1 billion, higher than its next big rival TXN's market cap of $69.9 billion.
Next, we'll see what analysts say about AVGO.