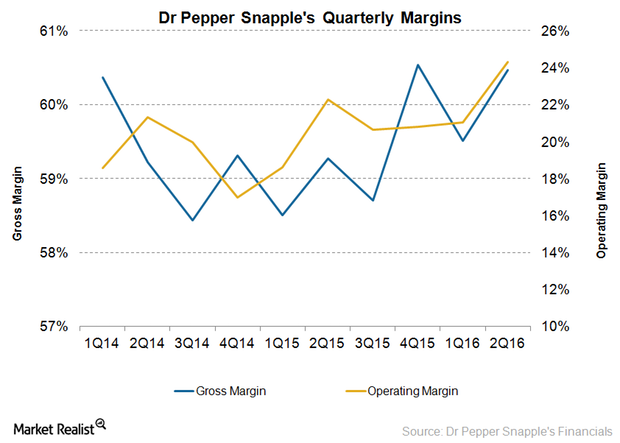 What Led Dr Pepper Snapple's Margin Expansion in 2Q16?
Higher gross margin
Dr Pepper Snapple's (DPS) gross margins increased by 120 basis points to 60.5% in 2Q16 on a YoY (year-over-year) basis. This increase was mainly driven by the favorable effect of unrealized mark-to-market commodity changes. In 2Q16, its gross margin also expanded due to lower commodity costs, continued productivity benefits, and higher pricing. The positive impact of these factors was partially offset by unfavorable product mix, package and segment mix, and adverse currency movements.
Article continues below advertisement
Article continues below advertisement
Operating margin expansion
Dr Pepper Snapple's operating margin expanded by 200 basis points to 24.3% in 2Q16. The improvement was caused by a decline in selling, general, and administrative expenses as a percentage of sales. The company's operating margin benefitted from a reduction in transportation costs due to lower fuel prices and lower marketing investments. Marketing expenses were lower in 2Q16 due to timing shifts in brand campaigns.
Notably, the iShares Global Consumer Staples ETF (KXI) has 0.5% exposure to Dr Pepper Snapple.
In 2Q16, Coca-Cola's (KO) operating margin increased to 24.8% from 20.9% in 2Q15, driven by gross margin expansion, productivity initiatives, and the timing of certain expenses. PepsiCo's (PEP) operating margin increased to 19.3% in 2Q16 from 18.2% in 2Q15, helped by the company's revenue management strategies and productivity gains. Monster Beverage (MNST) generally delivers higher operating margins than these soda makers due to the higher prices of energy drinks.
Productivity measures
Dr Pepper Snapple is working on increasing its productivity and enhancing its margins through its Rapid Continuous Improvement program. The company classifies its improvement activities into what it calls "lean tracks."
In the company's 2Q16 conference call, Martin M. Ellen, Dr Pepper Snapple's Chief Financial Officer, discussed some of the company's Kaizen events, which help improve an existing process. The company's CFO mentioned that driver turnover at the company's Orlando Direct Store Delivery site fell by 44%. This improvement was driven by improved recruiting, onboarding, and performance management processes.
The CFO also discussed several other productivity initiatives, including efforts of the company's Mexican team to improve Peñafiel distribution with its third-party distributors by creating standard work for trade management and point-of-sale.
We'll discuss Dr Pepper Snapple's price movement and analyst recommendations in the next part.